Storage facility and logistics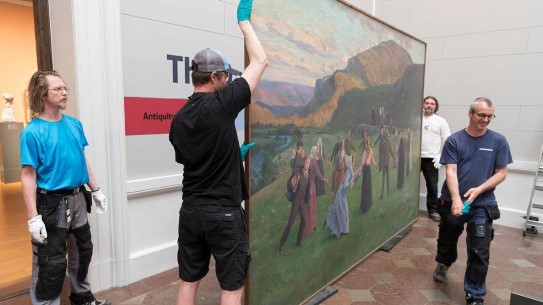 The Storage and Logistics Section deals with the internal transport of art within the National Museum, packing for external shipping, and registrar functions for new acquisitions as well as incoming and outgoing loans for exhibitions.
The National Museum's collections are stored in a number of storage facilities, administered by the Storage and Logistics section. Logistics management is carried out using bar codes and specially developed logistics solutions.
The Collection Storage Managers are the main point of contact for all activities at the facility. They maintain an overview over the location of various works and prepare works for transport. Crates and transport frames are produced as needed. Temperature and humidity are continuously monitored. In the event of concerns regarding insects, the affected or vulnerable objects are treated immediately using appropriate methods for control.   
The National Museum's Art Handlers are specialists in the packing and shipping of art. These are services needed by other members of the museum staff in connection with exhibitions, new acquisitions and loans as well as photography, research and conservation activities. In the relocation project, the Art Handlers  are responsible for packing and consolidating all the objects. This includes all internal logistics management, scanning of packages and secure loading and unloading from transport vehicles.
The section also includes the National Museum's registrars, who are in charge of administrative procedures and coordination of activities related to new acquisitions and incoming and outgoing short-term and long-term loans. This is where contracts, shipping and insurance arrangements are drawn up and quality assured. The registrars are responsible for organising and administering the work flow in the collection purchase and loan committees. In the relocation project, the registrars play a key role in planning, coordinating and managing transport needs. 
The Storage and Logistics Section was established in 2006 in response to the logistically complex infrastructure that emerged from the fusion of four institutions with separate venues, storage facility solutions and support systems into the National Museum. Over the years the section has gained a wide range of experience from various relocation and consolidation processes. This provides an excellent platform for implementing the best solutions for art logistics and storage facility management.