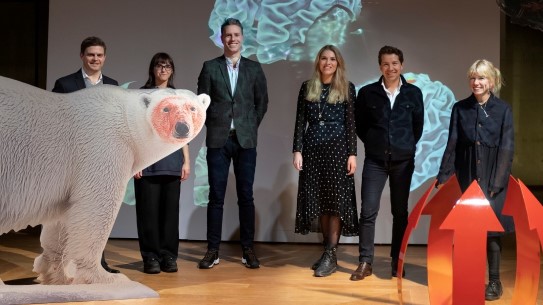 2020 is a dynamic group of young art enthusiasts who are helping to develop the National Museum's contemporary art collection.
2020 aims to create and foster interest in contemporary art in Norway. It is a donation-based club where the condition for membership is a minimum annual contribution of NOK 5,000.
Membership fees and other donations go directly to the purchase of contemporary art at the National Museum. Thus 2020 influences and contributes to the growth of the museum's future collection.
Launched in 2015, 2020 has so far enabled the National Museum to purchase works by Dòra Maurer, Tori Wrånes and Katja Novitskova
Katinka Traaseth, fund manager (director) • William Flatmo, director of the Sveaas Art Collection (deputy director) • Aurora Aspen, OSL • Gard Eiklid, Galleri Golsa • Kjartan Landgraff Kalstad, partner in McKinsey & Company • Stina Høgkvist, departmental director of collections • Andrea Kroksnes, seniorcurator of contemporary art • Tord Rønning Krogtoft, marketing director • secretary: Tone Vesti Wilse, special consultant
Membership benefits
As a member, you will learn about contemporary art through a series of unique events, such as visits to the studios of prominent artists and Norway's foremost art collectors, curator-guided tours and exclusive previews at galleries and museums.
In addition, you will enjoy: 
Free entrance for two to all National Museum venues
Invitations to National Museum exhibition openings
Discounts of up to 35% in the National Museum shops
Free admission to the Munch Museum, the Astrup Fearnley Museum, Moderna Museum in Stockholm and Malmö, and the Louisiana Museum of Modern Art north of Copenhagen.
Contact information
Do you have any questions? Feel free to send us an e-mail at 2020@nasjonalmuseet.no or call us at +47 21 98 20 00.