Architecture Museums and Digital Design Media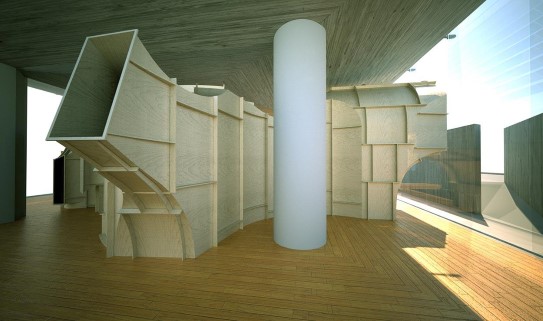 How can digitally created architecture be presented both to scholars and to the museum-going public? This is a question being explored by senior curator Birgitte Sauge in the research project Architecture Museums and Digital Design Media.
Drawings, models, and other materials that architects create when designing buildings represent a key part of our cultural heritage. Such materials provide insight into the architecture surrounding us, but also into the architects' process and how they use drawings and models to communicate with their clients and colleagues. Since the 1990s architects have been using computer-aided design tools, and today the architects' design and planning work is dominated by three-dimensional modelling. However, there are major challenges in relation to gathering, conserving, and presenting today's digital materials.
Birgitte Sauge's research project Architecture Museums and Digital Design Media is part of the cross-disciplinary research project "Cultural Heritage Mediascape: Innovation in Knowledge and Mediation Practices", led by Palmyre Pierroux at the Department of Education at the University of Oslo. The project is funded by the Research Council of Norway through its KULMEDIA programme and will run from 2015 to 2019. For information, please see http://www.uv.uio.no/iped/english/research/projects/mediascapes/ .
The aim of the Architecture Museums and Digital Design Media research project is to better understand
the challenges of presenting architecture through digital material;
challenges related to the long-term conservation of such material; and
how young people today reflect on their physical surroundings and on how these surroundings were created.
The research project will include a survey of the digital data at Norwegian architectural firms, studies of museum visitors, digital experiments at the National Museum's architecture exhibitions, and studies of two firms and their archives and major projects. The findings will be shared via journal articles, a monography, a conference, and exhibitions. The project is also affiliated with international research communities that work on similar issues.
Read more on the project's homepage
Participating researchers:
Birgitte Sauge, Dr. art., senior curator, Architecture department, the National Museum
Rolf Steier, PhD, postdoctoral fellow, Department of Education, the University of Oslo
Palmyre Pierroux, PhD, professor, Department of Education, the University of Oslo
Partners:
Atelier Oslo Arkitekter
div.A. Arkitekter
Engelab
National Archives of Norway