Handheld FTIR Spectroscopy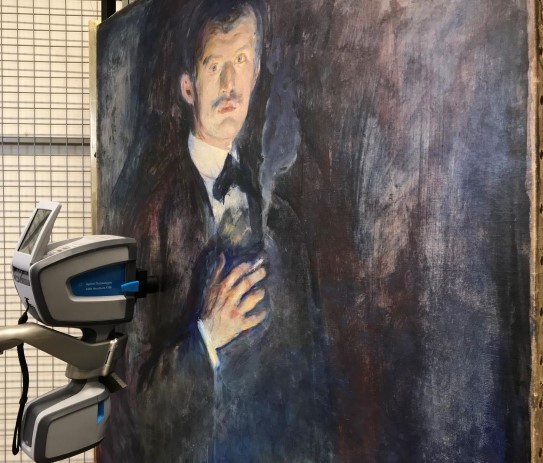 Revisiting the surface, Edvard Munch and varnish coatings: Investigating conservation controversies and their preservation challenges for collections.
Fourier transform infrared spectroscopy (FTIR) is a successful and established technique used for the chemical characterisation of organic materials in paint films and varnish coatings. Portable and handheld FTIR (pFTIR) spectrometers allow for non-invasive and in situ analyses.
This study concerns the collection of 56 Munch paintings at The National Museum of Art, Norway (NMK).
The anticipated results of this pilot study will serve to evaluate the use of pFTIR as a suitable screening method for the chemical characterisation of varnish coatings in paintings.
Read Thierry Ford's article "A non-invasive screening study of varnishes applied to three paintings by Edvard Munch using portable diffuse reflectance infrared Fourier transform spectroscopy (DRIFTS)" 
Read Thierry Fords article «Munch and optical coherence tomography: unravelling historical and artist applied varnish layers in painting collections» (published September 2021)
Participating researchers:
Thierry Ford. Conservation Dept., National Museum of Art, Architecture and Design, 0130, Oslo, Norway.
PhD candidate, University of Oslo, Institute for Archaeology, Conservation and History, Conservation Studies