New research methods are to provide the museum with insight into how and why the audience interacts with art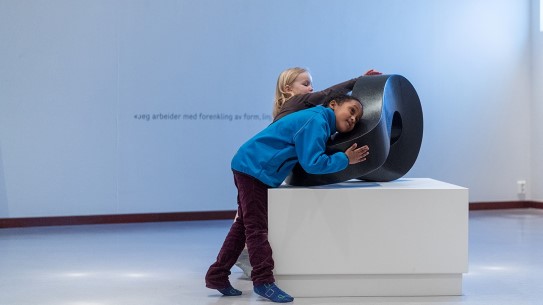 The National Museum is currently developing a new research method, investigating both internal work processes and mediation methods. The goal is to improve museum pratices and to increase familiarity with the audience.
...how can research and scholarship undertaken by those working in the art museum in fields beyond art history be recognised and validated and how can we account for knowledge generated through the experience of engaging with art?
- Emily Pringle, "Developing the Practitioner-Researcher Within the Art Museum", Tate Papers, nr. 29 (2018)
The need for research on mediation
Considerations with regard to the audience and to museum education, is currently of high priority on museum agendas. Demands relating to a broad outreach and to developement of innovative education practices, are increasing. There has been an explosion in literature concerning museums and the public, over the last twenty years. This literature is mostly conceived externally, and frequently lacks the perspectives of those who work in the museum.
In order to improve, we must evaluate our practices. Are the educational goals we have set actually being reached? Knowledge and experiences must also be shared within a museum and with the rest of the museum field. As research entails new knowledge, it equally provides a space for reflection.
Inspiration from Tate
In the busy day-to-day work of a museum, how can we create space for reflection and research? The lack of experience in research and knowledge relating to practice-based research methods, also poses a significant challenge. How do we enable a research method that does not take too much time, but which both strengthens and is part of the core activities in a museum?
At Tate, initiated by the head of research, Emily Pringle, this question has been taken seriously. Focusing on the section of education over a ten-year period, Tate has developed and implemented what is called a practice-led research method – similar to action research, with the intention of improving museum practices. In contrast to what one might think of as more traditional research, where the researcher examines the material as a "neutral" outsider, this form of research is carried out by researchers who are closely acquainted with and involved with the research material in their day-to-day activities.
Concerning the development of a new method in the museum, Tate is a central role model. An important element in this model of research, is to highlight the objectives and motivation behind a mediation practice and, not least, to evaluate the practice. Who is the target group? Are we reaching them, and if so, how? What does the practice aim to investigate? Which theories, studies and knowledge does the mediator draw on in the development of the practice, and how is a new museum practice developed? Pringle asserts that curators of education often draw on theoretical knowledge from a number of fields such as art history, philosophy, cultural theory, and pedagogy. In the context of museum education, the value of this diverse field knowledge lies in how it is utilized. 
An extended educational space
Simultaneously as work is being conducted with regard to the creation of new edcation methods, the field of museum mediation is in rapid developement: spreading into the exhibition spaces, emphasising interactivity, dialogue, and pluralism, and appealing to multiple senses. Within this extended educational space, one of the primary goals is to gain increased familiarity with the public.
In line with the tendencies of today's society and new education concepts, museums are no longer there to simply provide public information. Even more imperative is the public opportunity to inform and influence museums. Research in education can provide a new space for experimentation and be an innovative platform, in order for the museum and the public to convene and attain increased mutual understanding and interaction.
Read more:
Curious about the project? Contact us for more information!