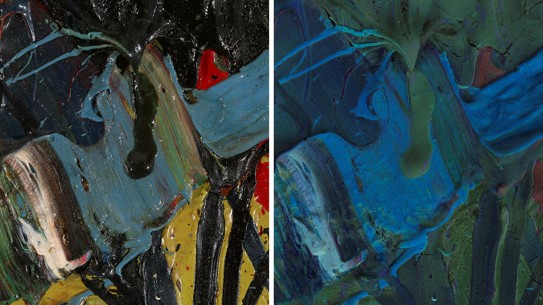 Examination of the condition issues in oil paintings dated between 1946 and 1972.
Now and again paintings made after the second world war have condition issues connected to softening oil paint. In order to aid conservation strategies and future treatments the National Museum aims to focus on documenting this phenomenon. The project will investigate the condition and materials of 26 paintings from 5 different Norwegian collections, including the National Museum and Henie Onstad Art Center.
The main research aims are:
Identify relevant case studies that includes a great variation of condition issues connected to soft and dripping oil paint.
Investigate possible common traits of the artist autobiographies and painting technique that could be related to soft and dripping paint.
Describe and document the condition problems connected to soft and dripping paint.
Make systematic investigations into the materials in the chosen case studies.
Link the physical and visual observations to chemical analysis.
Describe issues to consider for conservation strategies for paintings with soft paint.
Discuss best potential practice for preventive conservation for paintings with soft and dripping paint.
Discuss and suggest potential treatments for hardening soft paint.
After looking at several 100 paintings in 5 collections in Norway over the last couple of years, a list of works has been compiled that shows the variations within the subject and the different symptoms. The variations between the different paints in the range of soft and dripping are large. Among the most problematic symptoms are bleeding paint layers, drips, deformations, delaminations, paint loss, colour change and gloss change. To get an understanding of the materials in the paintings, a broad spectrum of different analytical techniques is being executed. 
When oil paint becomes increasingly soft or even drips, the conservation treatments need to be adjusted to each individual painting and sometimes area. Paintings with soft oil paint has a high sensitivity to pressure, heat and solvents.
The sensitivity of soft oil paint is also a problem for dirt pick up. Fibers, dust and particles embed themselves into soft paint layers. Preventive measures are consequently of importance. Among several of the aims for the project is to document surface changes or visual changes in the paintings. Dirt pick up is one of these. Knowing what has changed over time, or looked different, is an important part of understanding the original artistic intent.
Publications:
Bronken, I. and Boon, J. (2014a) Hard dry paint, softening tacky paint, and exuding drips on Composition 1952. In: Issues in Contemporary Oil Paints. Proceedings from the Symposium, 28 and 29 March 2013. van den Berg, K.J., Burnstock, A., de Tagle, A., de Keijzer, M., Heydenreich, G., Krueger, J. and Learner T (eds.). Amersfoort: Springer. Pp. 247–62
Bronken, I.A.T. and Boon, J.J. (2014b) Softening paint and drip formation in paintings by Jean-Paul Riopelle (1923–2002): improving their condition with metal coordinating ions. In: Preprints of the ICOM-CC 17th Triennial Conference. Bridgland, J. (ed.). Paris: ICOM, art. 1303, 8 pp.
Bronken, I. and Boon, J. (2015) Conservation challenges and physical changes in Composition (1952) by Jean-Paul Riopelle: a case study. In: Public Paintings by Edvard Munch and his Contemporaries: Change and Conservation Challenges. Frøysaker, T., Streeton, N., Kutzke, H., Hanssen-Bauer, F., Topalova-Casadiego, B. (eds.). London: Archetype publications. Pp 334-348.
Bronken, I., Boon, J.J. and Vila, A. (2015) In search of a solution for softening and weeping paints in contemporary paintings by Tal R and Frank van Hemert. In: Current challenges in Paintings Conservation, Barros D´Sa, A., Bone, L., Clarricoates, R. and Dowding, H. (eds.). London: Archetype publications. Pp. 28-41.
Bronken, I., Boon, J., Corkery, R. and Steindal, C.C. (2019) Changing surface features, weeping and metal soap formation in paintings by Karel Appel and Asger Jorn from 1946 – 1971. In: Journal of Cultural Heritage 35 (2019). Pp. 279–287.
Bronken, I., Boon, J. and Steindal, C.C. (In print) Examination of paint delamination in C'est grace à nous by Asger Jorn. In: Conference on Modern Oil Paints. Springer.
Researcher in the project:
Ida Antonia Tank Bronken, Paintings conservator Nasjonalmuseet
Phd-study at the University of Amsterdam, Netherlands.
Individual scientist and collaboration partners:
Jaap J. Boon, Dr. Professor emeritus, Jaap Enterprise for Art Scientific Studies, www.jaap-enterprise.com
Klaas Jan van den Berg, Cultural Heritage Agency of the Netherlands, Research, Senior Conservation Scientist. Professor, University of Amsterdam
Calin Constantin Steindal, Researcher, Section for conservation, Saving Oseberg, University of Oslo
Hartmut Kutzke, Associate professor, Section for conservation, University of Oslo
Robert Corkery, (KTH) Royal Institute of technology, Applied physical chemistry
Getty Conservation Institute (GCI), Science department
This project has been supported by:
UNI-stiftelsen
HZB Helmholtz Zentrum Berlin, Bessy II
Getty Conservation Institute, Science department.
Henie Onstad Art Centre