Join the celebration of Queer Culture Year for the whole country!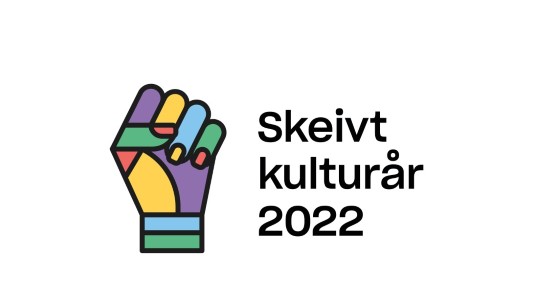 In 2022 it is 50 years since the decriminalisation of homosexuality in Norway. This will be marked and celebrated all over the country during Queer Culture Year 2022.
On 21 April 1972, section 213 of the Norwegian Penal Code, which prohibited sexual acts between men, was repealed. To mark this, the National Museum, National Library and National Norwegian Archive for Queer History have joined forces on the initiative for a national celebration to communicate and discuss queer art, culture and history.
We encourage art and culture organisations throughout the country to participate in the celebration with events, exhibitions, seminars, performances, concerts and more. All the projects are carried out by individual participants within their individual scopes and budgets.
Struggle, freedom and celebration
As part of the work on the celebration, the National Museum in collaboration with Metric Design has produced a visual identity package for Queer Culture Year. The logo includes a hand which in various ways expresses struggle, freedom and celebration. The visual identity package is available from today, and can be used freely by all participants who want to join the celebration.
Includes more than sexuality
Queer, diverse and provocative stories and ideas are important for our creativity, tolerance and development. Queer embraces more than sexuality. It's about creating free zones, room to be who you want to be, challenging norms and dogma.
The history of queer Norway
The queer view of ourselves and the world allows nuances and new diversity to emerge.  The queer community has made a decisive contribution to our common culture, and has fought for an openness that benefits the whole of society. But the history of queer Norway has not yet been written, and we still know too little about our queer culture and history.
On the occasion of the 50th anniversary of the decriminalisation of homosexuality in Norway, the National Library, National Museum and National Norwegian Archive for Queer History will go through the institutions' archives and collections to understand which objects and documents illuminate the country's queer history.
Throughout the anniversary year, the whole of Norway will be filled with activities, exhibitions and events that look at art and culture from a queer perspective.
Download logoes and illustrations here
(Note: The Brandpad area from which the files are downloaded works best on desktop devices. It is not optimised for telephones)
Do you have questions or want to know more?
Join Queer Culture Year's Facebook group. Here, anyone who wants to can join in to discuss plans, meet, and exchange ideas. Welcome!
The visual package contains different versions of the logo that can be used freely: