The National Museum Visitor Guide – download the app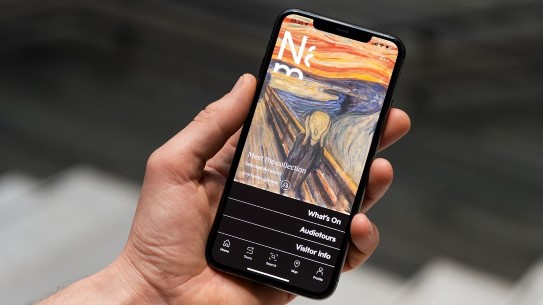 Download the Visitor Guide app and and find your way through the museum.
In addition to maps and information about what's on at the museum, the app includes an audio guide with more than 100 audio stories. Choose one of our ready-planned routes or compose your own. There are audio stories about some of the museum's most famous works, less well-known treasures from the collection, and feature exhibitions. 
You will also find audio stories specially for children and content adapted for the visually and hearing impaired. 
The museum guide is free.
Includes:
Audio Tours
Navigation
Extra exhibition content
Make your own routes
Explore the building
Practical information
What's on
The app experience may vary depending on your mobile unit and settings.

We would like to extend our warm thanks to the Savings Bank Foundation DNB for their extremely generous support of this project.
Contributors

Bleed and Mazedia created the museum guide's design and technical solution.
The audio stories have been made by Svarttrost Produksjoner and Kari Slaatsveen in collaboration with the National Museum.
The photos in the museum guide were taken by Frode Larsen, Annar Bjørgli, and Ina Wesenberg from the National Museum's photography section.