Get inspired by the collection
Wherever you are in the world, the National Museum's online collection offers over 40 000 works to explore, and now you can even make your own collections.
Search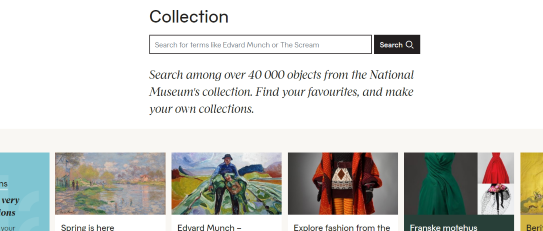 Search for whatever interests you, and filter the search to find the artists and works you're looking for.
From the front page of the online collection, you can do an open search, and then filter the results in several layers of sorting options. 
When you're on an object or artist page, or a user collection, click the 'Search' button in the top right corner to do another search.
Get inspired
Don't know exactly what to look for? On the collection front page you'll find many sources of inspiration: Stories, thematical presentations and user collections from around the world. 
Find something you like? You too can create your own collections.
My collections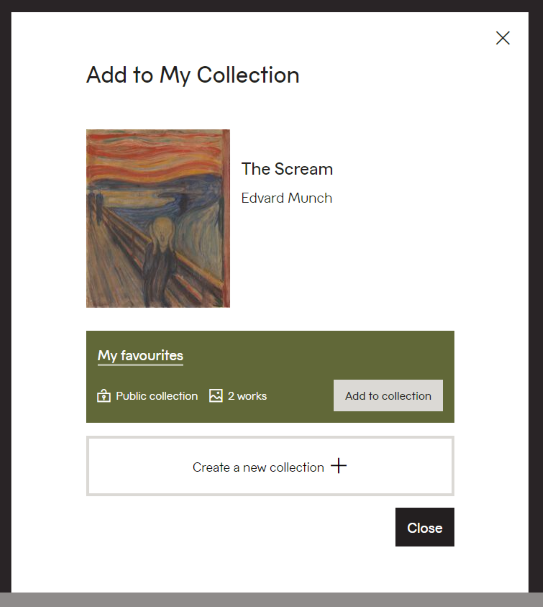 Create a user and start collecting! Fond of cats, Edvard Munch's masterpieces, architecture or design? Make collections according to your interests. 
Read more on how to create your own collections
Artists and exhibitions
In the collection menu in the top right corner you will find specialized search pages only for artists and exhibitions. If you search from the main collection search you the result will show both artists and works. 
The National Museum collection
The National Museum exhibits Norway's largest collections of art, architecture and design. The National Museum was established as an institution in 2003, as a result of the consolidation of the National Gallery, The Museum of Architecture, the Museum of Decorative Arts and Design and the Museum of Contemporary Art.