Breaking Boundaries!  Museum Education as Research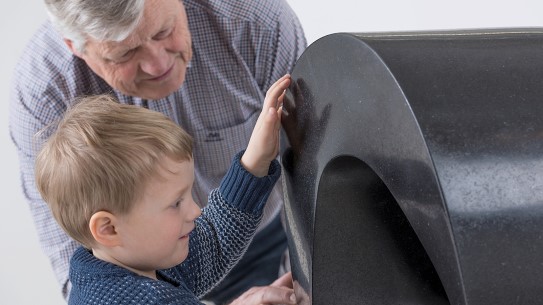 Welcome to the National Museum's seminar on museum education, presented in collaboration with the education section at Norges Museumsforbund (the association of Norwegian museums)
What is defined as knowledge in today's museums? What happens when the focus shifts from objects and collections to the audience, to learning, and to visitor experiences? 
  
Given that museums are currently being defined as platforms of democracy, participation, and multiple voices, we must also rethink both what we want to accomplish with research and how we define knowledge, professionalism, and quality.  
  
In this seminar we will take a closer look at how museum practitioners can study their own practice: How can research lead to a more investigative and deliberate way of working? Which research methods can we use? And what does this research look like? Does it have to take shape as a research article, or can it be physical? Can we share knowledge with each other without texts?
If you want to participate in the dinner event on Thursday, 25 November, at 19:00, you must purchase an additional ticket here.


Program
Thursday, 25 November

09:30–10:30
Coffee and registration

10:30–10:40
Introduction by Maja Leonardsen Musum(N), Communications and development advisor at Randsfjordmuseet

BACKGROUND
10:40–11:10
Why and How to Do Research on Museum Education?
Line Engen (N), Museum educator at the National Museum, Oslo

STUDYING PRACTICE

11:10–12:00
Exhibition Production as a Research Process
Mattias Bäckström (N), Researcher in history of ideas and museology and associate professor at the Department of Historical and Classical Studies at NTNU, Trondheim
12:00–12:10 Break
12:10–12:40
A Pluralistic Approach to Museum-Based Research
Ólöf Gerður Sigfúsdóttir (ISL), Researcher at the School of Social Sciences, University of Iceland, Reykjavik
12:45–13:20
A Historical Overview of Studies on Audiences and Museum Education
Lynn D. Dierking (USA), PhD, professor emeritus of free-choice/informal learning & museum learning research, Principal Researcher, Institute for Learning Innovation

13:20–14:10 Lunch
PRACTICE RESEARCH METHODS
14.10–14:40
Can We Take a PhD in Museum Education?
Jeroen Boomgaard (NL), Professor of Art and Public Space at Gerrit Rietveld Academie in Amsterdam.

14:45–15:15
Action Research: Research as a Tool to Improve the Practices of Museum Education
Marit Ulvik (N), Professor at the University of Bergen

15:15–15.20 Short break
15:20–16:30 Discussion: How Can, and Why Should Museum Educators Do Research on Their Own Practice?
Jeroen Boomgaard, Mattias Bäckström and Ólöf Gerður Sigfúsdóttir; Maja Leonardsen Musum, moderator

16:30 End of day 1
19:00 Social event w/dinner at Vega Scene
Friday, 26 November


RESEARCH ON EDUCATION PRACTICES AT MUSEUMS: WHAT RESEARCH IS BEING DONE TODAY?

09:00–09:15 Coffee and registration

09:15–09:25
Introduction and brief summary of day 1, by Maja Leonardsen Musum

09:30–10:20
The Tate Turnaround: Practice Becomes Research!
Emily Pringle (UK), Head of research at Tate

10:20–10:50
Digital Activities: A Synthesis between Disciplines, Technologies, and Audience Needs
Ingvild Åse Hammervoll (N), Museum educator at the National Museum, Oslo

10:50–10:55 Short break
10:55–11:15
Hands-on Skills as Museum Dissemination Tools
Anna Økstra (N), PhD candidate at the University of Stavanger

11:25–12:20 Lunch

12:20–12:50
Crafts, Educational Activities, Research? Insights from Iron Production, Forging, and Carpentry at a Reconstructed Medieval Farm
Per Steinar Brevik (N), Konservator at the Stiklestad National Cultural Center

12:50–13:20
Skeletons in the Closet: An Example of Knowledge Topography
Ellen Lange (N), Editor of the trade journal Museumsnytt and conservator at Norsk Teknisk Museum

13:20–13:40 Break with coffee & cake

13:40–14:40
Panel discussion: What Is Knowledge in Today's Museums? And What Do Museums Intend with Their Research?
Thomas Walle (N) Head of Department, Research and collections, Musea i Sogn og Fjordane and editor The Norwegian Museum Journal, Heidi Anett Øvergård Beistad (N) Director Stiklestad National Cultural Center, Emily Pringle and Ólöf Gerdur Sigfúsdóttir. Maja Leonardsen Musum, moderator

Approx. 15:00 End of day 2