Arkitekturfilm Oslo: Roman Blazhan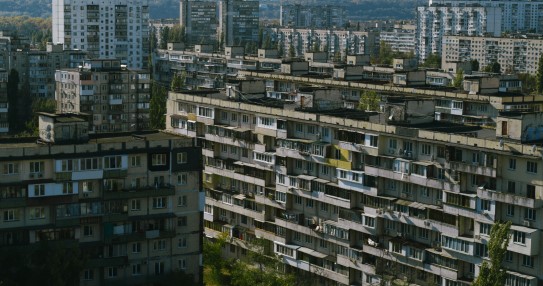 Four short films by the Ukrainian filmmaker Roman Blazhan will be shown in the Auditorum in the new National Museum. Filmmaker Roman Blazhan first persued a career in energy and finance but startet recently to make short films that explore urban spaces.
"ENTER THROUGH THE BALCONY"
The film explores the phenomenon of the balcony as a small architectural form, Enter Through The Balcony is a journey through the decades. It is a look inside balconies and their owners in cities across Ukraine. It is a balanced and in depth view of the balconies from their owners, employees of city councils, historians, sociologists, urbanists, developers and architects. Through the history of the balconies film explores the history of Post-Soviet Ukraine — life, culture, and the relationships between personal and public space in cities.  An engaging love letter to Ukraine and its people, "Enter Through the Balcony" examines how architecture can be a curious pathway to a deeper understanding of culture and place.
"SOVIET MODERNISM. BRUTALISM. POSTMODERNISM."
"Soviet Modernism, Brutalism, Post-Modernism: Buildings and Projects in Ukraine from 1960 – 1990" was released in support of the book of the same title, examining some of Kyiv's remarkable concrete architecture heritage. While focusing on Ukraine, director Roman Blazhan reflects on the universal conflict of each generation's ever-changing appreciation and rejection of the previous generation's understanding of architecture.
"LANDSCAPE ARCHITECTURE: RETHINKING THE FUTURE OUT OF A TOTALITARIEN PAST"
Soviet Union collapsed twenty-nine years ago but the ghost of its totalitarian past lives on, most prominently in the landscape of the country. What was supposed to become the past, continues to be present. If urban spaces shape the values of its residents, what does it feel like to live in a post-soviet Ukraine today? The film explores the past, present, and future of urban spaces in Ukraine and captures the unique historical process of building new communities in the post-soviet landscape.
"ORTHODOX CHIC"
Inspired by the book with the same name, "Orthodox Chic" shows the frenzy of building religious architecture that occurred in independent Ukraine. This is encapsulated in one particular story: as a backdrop, whenever a temporary, 'mini chapel' has been installed on a particular site a large church is supposed to finally replace it. Father Petro (Peter) has been filing for planning permission and collecting money for the construction of the Church of St Peter and Paul for more than twenty years. Even if he doesn't succeed in his lifetime, his son Pavlo (Paul), also a priest, will take over the work. This particular snapshot is just one of dozens of similar stories happening right now in Ukraine.
Technical information
Director: Roman Blazhan
Title: Enter Through the Balcony
Year: 2020
Country: Ukraina
Length: 26 min
Title: Soviet Modernism. Brutalism. Postmodernism
Year: 2018
Country: Ukraina
Length: 4 min
Title: Landscape Architecture: Rethinking the Future Out of a Totalitarien Past
Year: 2020
Country: Ukraina
Length: 4 min
Title: Orthodox Chic
Year: 2021
Country: Ukraina
Length: 4 min