"Difficult Love". Zanele Muholi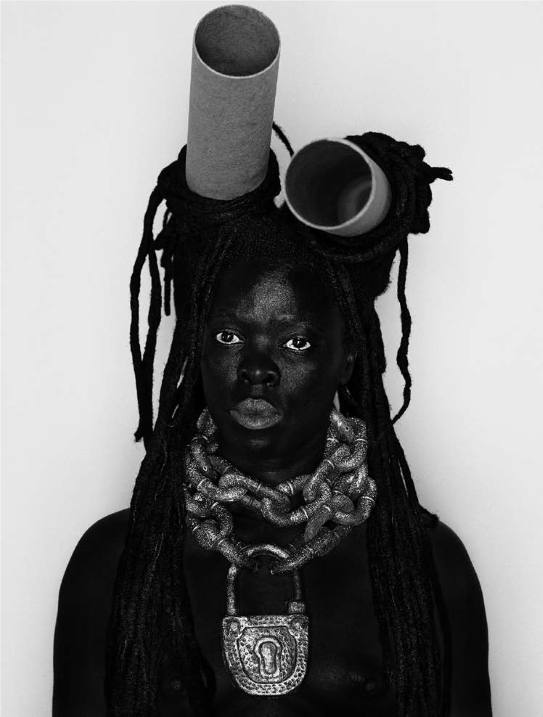 An intimate and thought-provoking portrait of the South African photographer and rights campaigner Zanele Muholi, Difficult Love explores what it is like to be a lesbian in South Africa today. The documentary is shown in the National Museum's Auditorium as part of the Motstrøms film series.
About the film
Muholi is non-binary (identifying as neither woman nor man) and describes themself as a visual activist. They work to highlight the challenges of life as a black lesbian in contemporary South Africa. Based on interviews with Muholi, family and friends, Difficult Love provides insights into how the artist works in a highly charged political environment. Throughout the film, Muholi uses the camera to focus on class, background and sexuality, in an effort to change perceptions of what it means to be a dark-skinned lesbian in South Africa today.
About the artist
Currently one of the world's most renowned living photographers, Zanele Muholi (b. 1972) has had major solo exhibitions at Tate Modern, Stedelijk, and other prestigious venues. Since the early 2000s, they have documented, celebrated and highlighted life in the LGBTQIA+ community in South Africa. In 2021, the National Museum purchased Muholi's photograph "MaID, Atlanta, 2017" from the series Somnyama Ngonyama. The photo is now on display in the museum's foyer.
Countercurrents
The screening of Difficult Love is part of "Motstrøms" (Against the Current), a film series in which the National Museum shows films that entertain, challenge and push boundaries. In 2022, we showcase both classics of queer cinema and new films from the borderland between mainstream cinema and art.
Queer Culture Year 2022
Motstrøms is part of the National Museum's programme for Queer Culture Year 2022, which celebrates the fiftieth anniversary of the decriminalisation of homosexuality in Norway.
Technical details
Directors: Zanele Muholi, Peter Goldsmid
Year: 2010
Length: 47 min
Country: South Africa