The Troll Wish. A troll walk with Nabi Yeon Geisha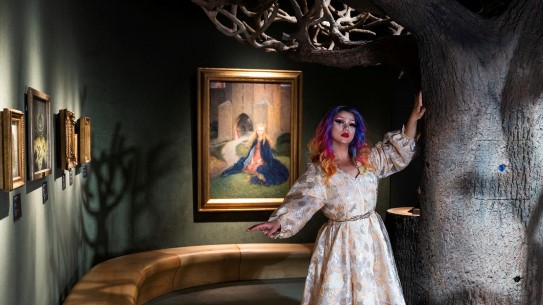 Welcome to The Troll Wish – an interactive storytelling event and troll walk with drag queen Nabi Yeon Geisha!
The Troll Wish is an exciting and magical story about the little girl Ragna, who, after being teased for looking like a troll, decides to become one. She travels deep into the forest, to the realm of the trolls, intending to fulfil her wish. But along the way she is put to the test by various creatures she meets. Does she really want to become a troll, or is she being influenced by external forces?
Devised by Nabi Yeon Geisha (Remi Johansen Hovda) in collaboration with the National Museum, this fairy tale is inspired by the drawings of Theodor Kittelsen. Together with the actors Bjørn Tore Grøntvedt and Magnhild Konnestad, Nabi has created a storytelling performance in which children listen to the fairy tale, complete tasks with the actors and Nabi, and pass back and forth between the exhibition "East of the Sun and West of the Moon" and the Fairy Tale Room.
Nabi Yeon Geisha is a genuine drag queen who loves to dress up in gorgeous dresses, colourful wigs and glitter – and to explore exciting stories and worlds. She has a long experience of telling fairy tales to children. Using her Dronningtimen (Queen Time) concept, she creates her own stories with a queer twist.