"Looking for Langston". Isaac Julien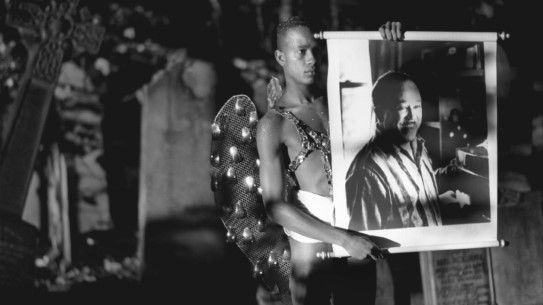 Looking for Langston (1989) is a poetic account of longing and desire between men in 1920s USA. The screening in the National Museum's Auditorium is a collaboration with the Oslo / Fusion International Film Festival and part of the Motstrøms film series.
About the film
Isaac Julien's Looking for Langston is regarded as a seminal example of queer film. Shot in black and white, it revolves around the life of the poet and author Langston Hughes, a central figure of the Harlem Renaissance in the USA. Using a mixture of archive footage, music, poetry and evocative scenes, the film offers a complex and visually striking portrait of the era in which Hughes lived.
About the film-maker
Isaac Julien (b. 1960) is a British artist who works at the intersection between film and art. In 1983, he helped to found the film collective Sankofa Film and Video Collective, in which he remained active until 1992. Race, masculinity and sexuality are recurring themes in his art.
Julien has had a number of exhibitions and received several awards for his work. In 2001, he was nominated for the prestigious Turner Prize. He has been purchased for the collections of major institutions such as Tate Modern in London, MoMA in New York, and the Centre Pompidou in Paris.
He is also represented in the collection of the National Museum with his 2010 film installation Ten Thousands Waves.
Countercurrents
The screening of Looking for Langston is part of "Motstrøms" (Against the Current), a film series in which the National Museum shows films that entertain, challenge and push boundaries. In 2022, we showcase both classics of queer cinema and new films from the borderland between mainstream cinema and art.
Queer Culture Year 2022
Motstrøms is part of the National Museum's programme for Queer Culture Year 2022, which celebrates the fiftieth anniversary of the decriminalisation of homosexuality in Norway.
Technical details
Director: Isaac Julien
Length: 45 min
Country: England
Language: English