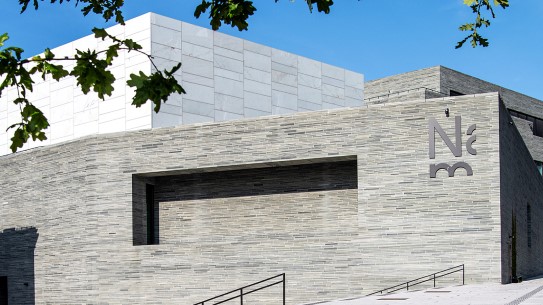 Welcome to the official opening of the National Museum of Art, Architecture and Design!  
The opening weekend kicks off with a big celebration at the museum plaza at noon on Saturday 11 June to which everyone is welcome. There will be music, speeches and an official ribbon cutting ceremony. The event is free and open to as many people as can fit in the plaza outside the museum. The event will be also broadcast live.  
   
Admission to the National Museum is free during the opening weekend, but you must reserve tickets and book the time of your visit. The time shown on your ticket tells you when you must show up at the entrance to be admitted.  
Tickets for the rest of the summer will go on sale on Monday 9 May.  
Programme for the opening weekend:  
Saturday
11:00 Public admitted to the museum plaza 
12:00 Opening event 
13:00 Doors open to museum 
23:00 Museum closes 
   
On Sunday, the museum is open from 10:00 to 23:00. 
   
More information coming soon!  
   
The shops in the National Museum and in Stasjonsmesterboligen, the café, Bollebar and the library will be open to everyone during the opening weekend.