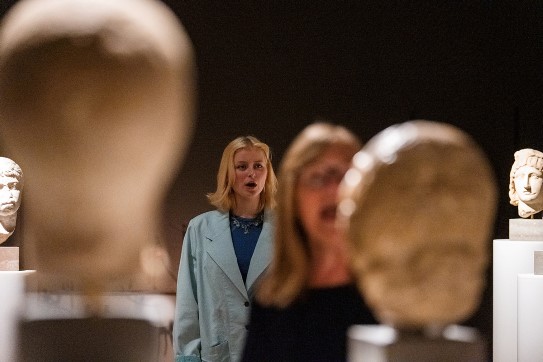 Discover what happens when three generations trace a path through the National Museum in the performance "Family". The work will be performed for the first time on the opening day of the new museum.
A very special performance has been created for the opening of the new National Museum. Deep in the heart of the museum, the extensive presentation of its collection of art, architecture and design, the exhibits are interpreted through song – conjuring all the beauty, cruelty, humour and thoughtfulness that art can convey.
"Family" will be performed three times on the opening day of 11 June – at 14.00, 17.00 and 20.30.
In this performance, an ordinary family explores the museum and its collection, singing the titles of the exhibits and rooms they encounter on the first and second floors. Visitors are invited to join them in their tour of the museum. No participation is required; the members of the family perform their composition undisturbed, an extra artwork for anyone willing to listen.
Created by the Italian / Belgian artist Francesca Grilli, "Family" is about time, as represented by the different generations and their voices. Through their interaction with the objects on display, which represent a period of three thousand years, the performance acquires an extended time dimension.
"I like the idea of a family taking ownership of the museum. By celebrating their favourite exhibits in song, they themselves become part of the institution," says Grilli.
In 2021, Grilli together with the National Museum invited applications from families fond of singing. Any such family could apply, provided they could muster at least three generations. Exploring concepts such as love and community, "Family" is about more than just biological ties.
The selected family has developed the composition together with Grilli and the composer Alessandra Bordiga. The result is a performance, uniquely adapted to the National Museum, performed by one family as they wander through the museum.
The performance will be given in the National Museum once every three months over a two-year period. Visitors can thus follow the family itself over time. The work will be premiered on 11 June, the day the museum first opens to the public.
The artist's team
Francesca Grilli / artist
Alessandra Bordiga / composer and voice coach
Willy de Rooij / casting support
Ettore Lombardi / styling
Benno Steinegger / external observer
Chiara Fava / administration
Chiara Massari / production
Elena Regazzoni / communications
Supported by Corpoceleste
The museum's team
Eva Klerck Gange / collection curator
Gudrun Eidsvik / educational curator
Per Odd Bakke / project manager
Rannveig Falkenberg-Arell / communications
Kristine Magnesen / communications
Christian Kraugerud Søberg / marketing