Hannah Quinlan & Rosie Hastings. Something for the Boys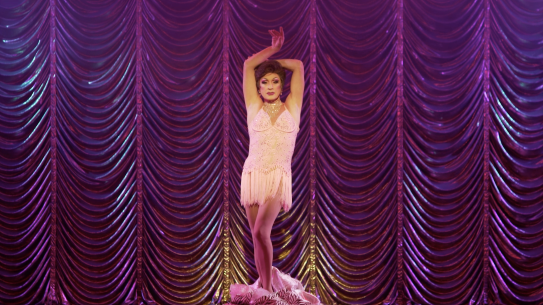 In their short films, artist duo Hannah Quinlan and Rosie Hastings explore the importance of queer history, culture and politics in public and private spaces During Oslo Pride week we are screening four short videos all set within queer bars and sex clubs, cruising grounds and a Pride parade.
About the films
The selected films weave together club music and dance, depicting both familiar and less known perspectives from the LGBTQ community in England. The four films we are screening are Everything is Folly That Does Not Give Us Pleasure (2021), In My Room (2020), Something for the Boys (2018) og Gaby (2017).
About the artists
London based artists Quinland & Hastings have worked together for almost ten years. Their practice spans from film, drawing, installation and performance. In 2020 they won the Film London Jarman Award, named after film maker Derek Jarman for their moving image works. Often working within a feminist framework, the artist duo explores how our identities are shaped by the people, communities and spaces around us
Motstrøms
Motstrøms is a screenings series of films at The National Museum showcasing bold, innovative and entertaining films that move between traditional cinema and art. Throughout 2022, the programme will feature pioneers of queer cinema and showcase films and video by or about artists.
Queer Culture Year 2022
The film screenings are part of The National Museum's program for Queer Culture Year 2022 and is shown in collaboration with Kunstnernes Hus Kino. Queer Culture Year 2022 celebrates the fiftieth anniversary of the decriminalisation of homosexuality in Norway.
Technical details
Title: Everything is Folly That Does Not Give Us Pleasure (2021)
Duration: 2 min 26 sec
Title: In My Room (2020)
Duration: 17 min 44 sec
Title: Something for the Boys (2018)
Duration: 16 min 35 sec
Title: Gaby (2017)
Duration: 7 min 55 sek
All films are produced by Hannah Quinlan and Rose Hastings in the UK, in English.