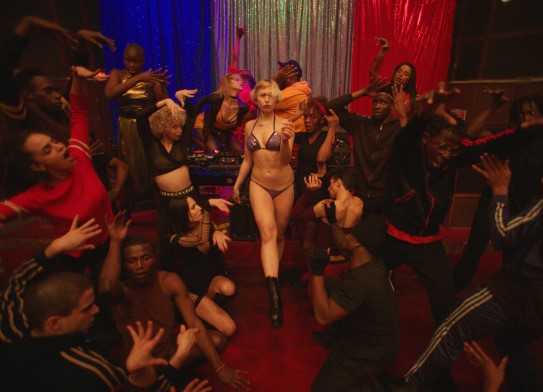 In collaboration with Oslo Pix Film Festival, we are showing the hypnotic and nightmarish film Climax (2018) by the Argentinian film-maker Gaspar Noé. After the screening, there will be a discussion with some of the dancers from the film. Thea (aka Yubaba) Carla Schøtt from Iconic House of Ninja & The Iconic Kiki House of Juicy Couture, and Alaïa Alsafir from The Iconic House of Miyaki Mugler will offer a unique insight into how this cult classic came about.
About the film
Climax introduces us to a group of dancers rehearsing in an old school building. A party organised to mark the end of their rehearsals descends into chaos after the participants drink a punch spiked with LSD. Some lose all inhibitions and become aggressive, others slip into fear and despair. We follow the dancers through a night of wild drama until they gradually return to their senses again the following morning.
The cast in Climax consists mainly of dancers with no acting background. Supposedly based on real events, the film won the Art Cinema Award, the main prize at the Directors' Fortnight, a sub-section of the Cannes Film Festival.
About the film-maker
With his brutally violent films, Noé has distinguished himself as one of the most controversial film-makers of our time. His breakthrough came with Irréversible in 2002, since when he has produced films including Enter the Void (2009), Love (2015), Climax (2018) and Vortex (2021).
Countercurrents
The screening is part of "Motstrøms" (Against the Current), a film series in which the National Museum shows films that entertain, challenge and push boundaries. In 2022, we showcase both classics of queer cinema and new films from the borderland between mainstream cinema and art.
Queer Culture Year 2022
Motstrøms is part of the National Museum's programme for Queer Culture Year 2022, which celebrates the fiftieth anniversary of the decriminalisation of homosexuality in Norway.
Technical details
Director: Gaspar Noé
Year: 2018
Duration: 1 h 35 mins
Languages: French, English
Subtitles: Norwegian