Fashion Research Symposium 2022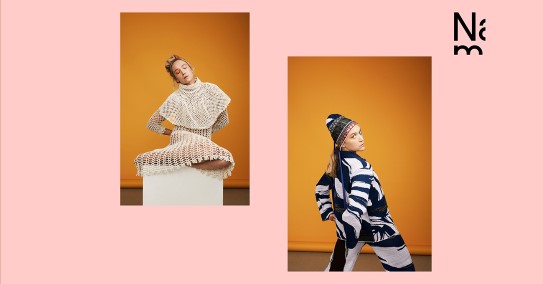 This event is unfortunately sold out.
Entrance via The National Museum's library and archive in Dronning Mauds gate.
Welcome to the Fashion Research Symposium 2022 at the National Museum in Oslo! The symposium is a collaboration between the National Museum and International Library of Fashion Research (ILFR), and is a two-day event for fashion research, knowledge-sharing and critical discourse. The symposium's theme is "Decentralizing Fashion".
We may know much about fashion in Paris or Milan, but what is going on in Helsinki? How can fashion flourish in Oslo and Kåfjord?
Can fashion exist anywhere?
Fashion is a global industry, and its supply chains are made up of complex networks of people who carry out their specialized labor in scattered corners of the globe. Its financial power, however, is centralized; major fashion cities dominate the industry, often at the expense of those directly involved in the processes of production.
This year's symposium gathers leading researchers and practitioners to consider fashion practices in smaller creative ecosystems around the world. Including Kaat Debo (Director of MoMu, Antwerp), Ida Falck Øien (Associate Professor, Oslo Academy of the Arts), Véronique Pouillard (Professor in Modern International History, University of Oslo), Jeppe Ugelvig (curator, critic and theorist, Editor-in-Chief of Viscose Journal), and many more.
The 2022 Fashion Research Symposium builds on the research project "Norwegian Fashion: Cultural Production and Aesthetic Mediational Practices" by Synne Skjulstad, associate professor at Høyskolen Kristiania.
Program
Friday, 2. September
13.00–13.15
Welcome Note by Hanne Eide
Decentralizing Fashion, Building Critical Fashion Discourse in the 'Periphery'
13.15–13.45
Véronique Pouillard
From Paris to New York and Everywhere: Fashion Centers from International to Postcolonial History
13.45–14.15
Coffee + discussion
14.15–14.45
Ida Eritsland and Synne Skjulstad
Findings from the Research Project 'Norwegian Fashion: Cultural Production and Aesthetic Mediational Practices' & Presentation of the Book "Fashions"
14.45–15.15
ALL-IN: Benjamin Barron & Bror August Vestbø in Conversation with Ida Eritsland & Synne Skjulstad
15.15–16.00
Coffee/snacks + discussion
16.00–16.30
Ida Falck Øien
Transactional Aesthetics: From Production to Consumption and Back
16.30–17.15
Elise By Olsen and Else Skålvoll Thorenfeldt in Conversation with Marco Pecorari
URL to IRL via WFH
17.30–19.00
Book Launch of "Fashions" by Synne Skjulstad
Saturday, 3. September
10.00–10.45
Kaat Debo in Conversation with Marco Pecorari
The Experience of Antwerp
10.45–11.30
Coffee + discussion
11.30–12.00
Conversation between Shala Monroque, Micah Tafari and Michelle Papillion
Worldwide Outside
12.30–13.30
Lunch + discussion
13.30–14.00
Namkyu Chun
Can Fashion Save Someone's Life?
14.00–14.30
Jeppe Ugelvig
The Endless Garment: Fashionable Networks in Numerous Asias
14.30–15.00
Panel Discussion chaired by Dal Chodha
On The Margins
Speakers
ALL-IN
ALL–IN is a fashion brand and magazine founded by Benjamin Barron and Bror August Vestbø. ALL–IN was first established as a magazine in 2015, and the first collection was presented in 2019. ALL–IN's collections center around recontextualizing existing garments, shifting their contexts to depict familiar yet unplaceable characters. The publication and collection continuously respond to each other, exploring parallel themes across both platforms.
Dal Chodha
London based writer Dal Chodha is Editor-in-chief of Archivist Addendum – a publishing project that explores the gap between fashion editorial and academe. He contributes to various international titles including Modern Matter, AnOther and i-D and is a Contributing Editor at Wallpaper*. He is also Stage One Leader of the BA Fashion Communication & Promotion course at Central Saint Martins. In 2020 he published his first book Show Notes which is an original hybrid of journalism, poetry and provocation.
Namkyu Chun
Namkyu Chun (Doctor of Arts, MFA in Transdisciplinary Design) is University Lecturer in Design Communication at Aalto University School of Arts, Design and Architecture. With his transdisciplinary multicultural background, he intends to critically engage with conversations on design through education and research.
Kaat Debo
Kaat Debo is director of MoMu, the Antwerp Fashion Museum. She studied literature and philosophy at the universities in Antwerp and Berlin, and joined MoMu in 2001 as a curator working on the museum's exhibitions and publications. From 2007 to 2008 she was editor-in-chief of A MAGAZINE, and in 2009 she was appointed general director and chief curator of MoMu.
Since joining MoMu she has worked with some of the world's leading fashion designers and fashion houses. During her 20+ years at the museum she realized more than 35 exhibitions, of which she curated several herself. She helped expanding the museum's international reputation, a.o. by traveling its exhibitions around the globe from Paris and London to Tokyo and Melbourne. She oversaw the extensive renovation and extension of the museum between 2018 and 2021. She lectures regularly on contemporary (Belgian) fashion.
Hanne Eide
Hanne Eide is a fashion historian and theorist who was recently appointed Curator for Fashion and Dress at the National Museum in Oslo, Norway. Eide has previously worked as a freelance curator, editor, writer and lecturer. Her work often centres around the transnational history of the fashion business and the history of cultural industries. Eide is currently managing the partnership and collaborative projects between the National Museum and International Library of Fashion Research.
Ida Eritsland
Ida Eritsland holds a master's degree in fashion studies from Stockholm University. She teaches fashion theory and fashion history at the Oslo National Academy of the Arts and Oslo Metropolitan University. Throughout the years, Eritsland has actively been involved in the production of fashion discourse locally and internationally through her many years of journalistic contributions to publishers such as D2 Dagens Næringsliv, Personae and NRK.
She has also worked extensively as a writer and strategist within numerous fashion practices, often behind the scenes, writing press releases, critique, and in convening- and participating in talks. She has produced numerous fashion editorials in collaboration with practitioners such as stylists, models and photographers, and served as editor of online magazine Melk & Honning. Eritsland has worked as researcher in the research project Norwegian Fashion: Aesthetic Mediational Practices and Cultural Production funded by Arts Council Norway.
Shala Monroque
Shala Monroque is a creative consultant, content developer and curator. Her early work includes art advising at The Gagosian Gallery and the position of Editor-at-Large of Pop Magazine. Monroque filled the role as Creative Director of Garage Magazine from 2011 to 2014, working closely with artists such as Damien Hirst, Richard Prince, Anna Craycroft and Hedi Slimane.
Monroque also served as a consultant with Prada for three years. Through the years, she has contributed to Harper's Bazaar and Vogue, served as a Co-Chair for the New York Public Library Gala Event and graced magazine covers and Vanity Fair's International Best Dressed List. Monroque walked in the Chloé Fashion Week 2020 show, alongside other female creatives.
Elise By Olsen
Elise By Olsen is Founding Director of the International Library of Fashion Research in Oslo. Starting her publishing practice as editor-in-chief at age 13, with her youth culture magazine Recens Paper, By Olsen has received international acclaim for rethinking traditional publishing and critical conversations within culture for a contemporary audience. In 2018 Gucci produced a documentary about her work and in 2019 she guest-edited AnOther Magazine. She currently serves as the Editor-in-Chief of Wallet, a new publication dedicated to critical dialogue within the fashion- and media industry.
Michelle Papillon
Michelle Joan Papillion is an entrepreneur collaborating with global creatives on various projects in art, fashion, horticulture and design. In 2010 Michelle founded PAPILLION ART in Los Angeles, working with major brands seeking relevancy at the intersection of art and culture. In 2015 she gave her first TEDx talk "The Art of Doing Good".
Michelle has been an art consultant on the awardwinning television series Insecure by Issa Rae on HBO. In 2020 she founded The Upeksha Query, an artistic organization established to collaborate and nurture relationships with artists and creatives all over the globe that are working with ideas centered around understanding consciousness. The UQ Main Campus is in the center of Joshua Tree, CA with two sister sites in Louisiana; The Francis Library for Art and Science Research in Shreveport and the Country House on the Bayou which host an annual retreat for writers and photographers. All three UQ sites have been designed in collaboration with world renowned Botswana based designer Peter Mabeo.
Currently she splits her time between California and her family farm Royal Queen Farms in Louisiana. Her time in Louisiana is to nurture the work around land restoration, soil regeneration and food forestry. Michelle is currently engaged in several projects that bridge the worlds of art, food and land conservation. Her work has been featured in Vogue, Huffington Post, Paper Magazine, Art Forum, The Los Angeles Times and Elle to name a few. 
Marco Pecorari
Dr. Marco Pecorari is Assistant Professor and Program Director of the MA in Fashion Studies at Parsons Paris where he teaches and conducts research on Fashion History and Theory. His research focuses on the politics of archives and museums, exploring the intersections of critical theory, fashion media, performance and heritage.
He is co-editor of the volume Fashion, Performance and Performativity: The Complex Spaces of Fashion (Bloomsbury, 2021) and author of Fashion Remains: Rethinking Fashion Ephemera in the Archive (Bloomsbury, 2021) which explores fashion ephemera such as invitations, catalogs, and press releases and their role in documenting the creative tensions, aesthetic affinities, disciplinary relationships, and commissions within the fashion industry.
He acted as associate editor with Stefano Tonchi for the book L'Officiel 100: One Hundreds Ideas and People from a Century of Fashion (Marsilio, 2021) and co-edited the volume Alaïa & Poiret: Exploring Fashion Heritage (Fondation Azzedine Alaïa, 2021). He is the co-founder of the festival and publication Printing Fashion and sits on the editorial boards of Fashion Theory, ZoneModa Journal, and Bloomsbury Fashion Central. He is also a member of the Scientific Board of the European Fashion Heritage Association (EFHA), Cultures de Mode (Ministry of Culture of France) and the research project 'Revêrtir L'Invisible: La religion habilée' (Colleges des Bernardines).  
Véronique Pouillard
Véronique Pouillard (1976) is Professor of International History at the University of Oslo, Norway. In 2021, she published Paris to New York. The transatlantic fashion industry in the twentieth century with Harvard University Press.
Synne Skjulstad
With a PhD in media and communication studies from the University of Oslo, Skjulstad is associate professor at Kristiania University College, School of Arts, Design, and Media, Oslo. Her research engages with mediated aesthetics and visual and material culture, as well as practice-based approaches to communication and design. Recently she has focused on the relationships between fashion, fashion photography and digital media platforms such as Instagram. She has presented her research internationally (Pratt Institute, FIT, Monash University, Aalto University, University of Southern Denmark, Shristi Institute of Art, Design and Technology), and published her research in anthologies by Springer, Hampton Press, Peter Lang, Nordicom, New York State University Press. Her latest publications are in journals such as, Kunst & Kultur, Fashion Theory, and International Journal of Fashion Studies. She served as project leader of research project Norwegian Fashion: Aesthetic Mediational Practices and Cultural Production' funded by Arts Council Norway, from which the forthcoming book Fashions edited by her is one of the outcomes. 
Micah Tafari
Micah Tafari is a farmer, artist and sustainable development consultant.  At age 17, he co-founded Rastafari Indigenous Village in Montego Bay, a cultural center and sanctuary for artists, musicians, farmers and healers.  Micah currently advises a range of initiatives including The Jamaica Social Investment fund, Chronixx Music Group and Renewable Energy Developers.  In 2016 working as a farmer and consultant at the University of Technology Jamaica, he created a horticultural model for the Jamaica cannabis industry. He has also trained with Unesco on Intangible Cultural Exchange. Within the arts, he is a publisher at Frontline Books, producing books and newspapers on African culture and spirituality, producing music shows, set creation and construction and as a locations manager scouting for National Geographic, Chronixx and Popcaan, among others.
Else Skålvoll Thorenfeldt
Else Skålvoll Thorenfeldt is Head of Communications of the International Library of Fashion Research in Oslo. She previously held the position as Head of Press at Maison Martin Margiela through the 90s, working alongside Martin Margiela and Jenny Meirens on the brand's elusive press and communications strategies. During her time in Paris, Thorenfeldt was involved with Institut Francais de la Mode and Purple Institute. For the past 19 years she has been running an organic farm just south of Oslo together with her family.
Jeppe Ugelvig
Jeppe Ugelvig is a curator, critic and theorist. Ugelvig's research focuses on histories and theories of cultural production, particularly in the intersection of art and fashion. He has lectured at Central Saint Martins, FIT, NYU and Istituto Marangoni, and functions as the associate editor of Wallet and the founding editor of Viscose. In 2020, Ugelvig published his first book Fashion Work: 25 Years of Art in Fashion.
Ida Falck Øien
Ida Falck Øien has an educational background in contemporary art from the Bergen Academy of Art, dept of contemporary art and from The Oslo National Academy of design, dept. of design, dress and costume. In 2022 she defended her PhD in design, Transactional Aesthetics, –and so can You! From 2008 to 2010 she was studio manager for Jeremy Scott in Los Angeles, and in 2012 she was part of forming the collective fashion brand HAiKw/ together with Siv Støldal and Harald Lunde Helgesen. Since its inception the collective have been in residencies Rogaland Kunstsenter and Bergen Kunsthall. They have produced several collections, and exhibited their work at Galleri Rod Bianco, Oslo, Galleri Format, Oslo, and with Institute for New Feeling in Los Angeles, in cooperation with artists and academics at Wiels in Brussels, at Trondheim Kunstmuseum and Arts Incubator in Chicago. Falck Øien has published research in International Journal of Fashion Theory and was a co-editor of the online magazine The Vessel #2, published 2022.