"Funeral Parade of Roses". Toshio Matsumoto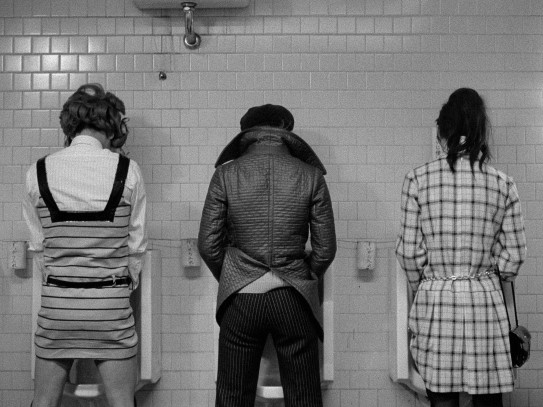 Funeral Parade of Roses (1969) is a dark yet visually stunning film in black and white by the Japanese film-maker and video artist Toshio Matsumoto. Now considered a seminal work of queer cinema, the film will be screened in the Auditorium at the new National Museum as part of the museum's Motstrøms (Against the Current) series.
About the film
Funeral Parade of Roses is a difficult film to categorise. It draws on various genres, making use of elements of horror, animated sequences and slapstick humour. The film's protagonist, Eddie, works at an underground queer club in Tokyo, a place where criminals and drug dealers also hang out. As the action unfolds, we gradually learn more about the shadows from Eddie's past. The film has been an inspiration for many later films, including Stanley Kubrick's A Clockwork Orange.
About the film-maker
Toshio Matsumoto (1932 – 2017) was a leading figure in experimental film-making in Japan. He made both feature films and experimental short films. Funeral Parade of Roses was Matsumoto's first feature film and has remained one of his defining works. His films and video works have previously been shown in exhibitions at MoMA in New York and Tate Modern in London.
Countercurrents
The screening is part of Motstrøms (Against the Current), a film series in which the National Museum shows films that entertain, challenge and push boundaries. In 2022, we showcase both classics of queer cinema and new films from the borderland between mainstream cinema and art.
Queer Culture Year 2022
Motstrøms is part of the National Museum's programme for Queer Culture Year 2022, which celebrates the fiftieth anniversary of the decriminalisation of homosexuality in Norway.
Technical details
Director: Toshio Matsumoto
Year: 1969
Duration: 1 h 45 mins
Language: Japanese
Subtitles: Norwegian