An evening in the studio – 1886 Remake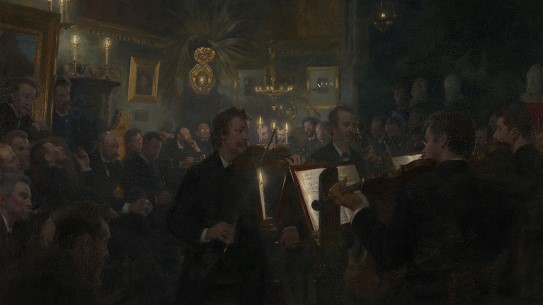 In 1886, the famous Neruda Quartet played a series of concerts for Copenhagen's cultural elite in the studio of Peder Severin Krøyer.
These soirées were immortalised in Krøyer's painting Music in the Studio. In the exhibition "Master to Master", the concert programme from 1886 is recreated. Opus13 String Quartet performs the music Krøyer captured on his canvas almost 150 years ago.
With:
Opus13: Sonoko Miriam Shimano Welde, violin, Edvard Erdahl, violin, Michael Grolid, viola, and Daniel Thorell, cello
Programme:
Works by Beethoven and Hartmann
The event is free with a valid entrance ticket to the museum purchased here.
The event will take place in the exhibition "Master to Master"  (1st. floor).