Artist talk with Carroll Dunham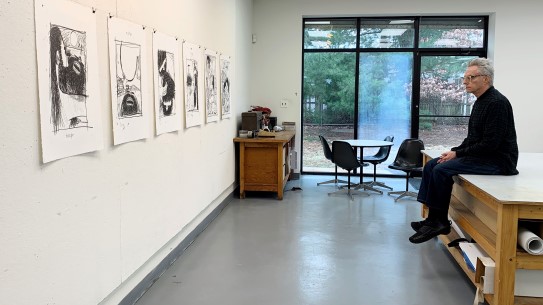 Welcome to a conversation with the American artist Carroll Dunham in connection with the exhibition "Carroll Dunham. Where am I? Prints 1985–2022".
I like the idea that my prints can look a lot of different ways.
Carroll Dunham, 2022
How does Dunham work with series and print sets, and how did his career as a printmaker begin? In this conversation, he will also talk about his role models from art history and how life as an artist in New York has changed since the 1980s.
The conversation will be led by the curators of the exhibition, Wenche Volle and Geir Haraldseth, and will be held in English.
Carroll Dunham broke through as an artist in New York in the early 1980s, and is today internationally known for his paintings, drawings and prints. His work contains references to art history, popular culture and personal experiences, and show a wide range of styles, motifs, themes and techniques.
The current exhibition in the National Museum shows a selection of works gifted by the artist to the museum in 2022.