Members' guided tour: "Carroll Dunham. Where am I?"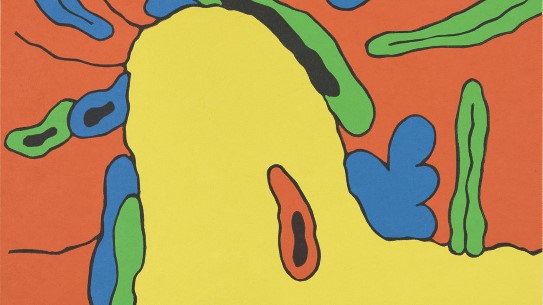 A chance for members to enjoy an exclusive preview of the exhibition "Carroll Dunham. Where am I? Prints 1985–2022".
The exhibition presents part of the substantial body of work the American artist presented to the museum as a gift. Consisting of 161 prints, this donation throws light on Dunham's use of series and contains several of his best known and most iconic motifs.
Due to limited capacity, you will need to book a time slot. If your membership covers a guest, you can order a separate ticket for the guest. Remember to show both your membership card and your ticket at the entrance.
Questions about tickets? Contact us at billett@nasjonalmuseet.no
Questions about membership? Contact us at medlem@nasjonalmuseet.no
About the exhibition
The American artist Carroll Dunham is known internationally for his paintings, drawings, and prints. This is the first museum exhibition of his prints in the Nordic region. Since his breakthrough as an artist in New York in the early 1980s, Dunham has gained international recognition for his paintings, drawings, and prints. Referencing art history, popular culture, and personal experience, his work ranges widely in terms of expressivity, motifs, themes, and techniques.
Get up close to Dunham's art in the Reading Room from 14.00 to 17.00
In connection with the members' preview, we invite you "behind the scenes" in the Reading Room. A unique opportunity to view the artist's colour lithographs from the "Female Portraits" portfolio, which are not included in the exhibition.
20% members' discount on Dunham products
Don't miss this chance to acquire your own cool tote bag and other products inspired by Dunham's art. At the members' preview on 1 February, we offer members a 20 % discount on Dunham products in the National Museum shop. See more products in the National Museum's online shop.