«Peter von Kant» (2022) François Ozon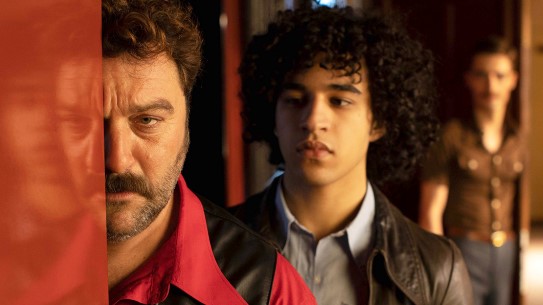 "Peter von Kant" is an entertaining reinterpretation of Rainer Werner Fassbinder's "The Bitter Tears of Petra von Kant", a classic in queer and art house cinema from 1972. The film is shown in the auditorium at the National Museum.
About the film
After a painful break-up, the successful film director Peter von Kant falls head over heels in love with an aspiring young actor Amir, and invites him to move into his apartment. But when Amir achieves rapid fame, the relationship comes to an abrupt end. With the mute assistant Karl as witness, a great drama unfolds in the apartment. 
The storyline in "Peter von Kant" is loosely based upon Fassbinder's "The Bitter Tears of Petra von Kant". But whilst Fassbinder's film features an all-female cast, the central characters in Ozon's film are played by men. 
About the director
François Ozon is one of France's leading filmmakers. He made his international breakthrough with the dark comedy "8 Women" in 2002. Since then he has produced a number of films including "The Swimming Pool" (2003), "By the Grace of God" (2018) and "Summer of 85" (2020). With his lifelong admiration and fascination with Fassbinder, Ozon has also produced "Water Drops on Burning Rocks" (2000) which was also based on one of Fassbinder's early plays about a businessman that falls in love with a young man.  
  
With "Peter von Kant", Ozon opened the 72nd edition of the Berlin International Film Festival.
Against the Current
The screening is part of Motstrøms, a film series in which the National Museum shows films that entertain, challenge and break boundaries. Here you can experience both classics in queer films and new films in the borderland between art and cinema. 
Technical details 
Director: François Ozon 
Country: France 
Year: 2022 
Duration: 1 hour 25 minutes 
Languages: French and German 
Subtitles: Norwegian