Pop-up exhibition: Close up to William Hogarth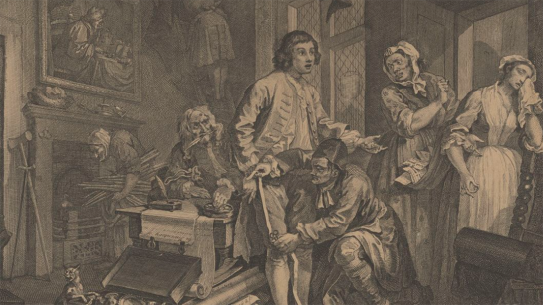 The English painter and graphic artist William Hogarth (1697–1764) is often called the father of English painting. He established a new genre of painting that can be described as a picture story, that is, a single image or a series of images that tell a sequence of events that comment on daily life. His most famous series is "A Rake's Progress" from 1732. Grayson Perry's monumental picture story "The Vanity of Small Differences" from 2012 is inspired by this story, but there is also a greater kinship between the two artists.
We invite the public to an intimate encounter with "A Rake's Progress" and an introduction to Hogarth, his art and times, and the link to Grayson Perry. The introduction will be in Norwegian by Senior Curator Knut Astrup Bull. 
To participate, you must have a valid entrance ticket to the National Museum.
Welcome! 
About the event: 
Every month on Wednesdays and one Thursday between 14 and 16 you will have the opportunity to get to know graphics and drawings from the National Museum's collection. In the Prints and Drawings study room you can come close to original works by artists such as Francisco de Goya, Edvard Munch, Max Klinger, Kähte Kollwitz, Anna Eva Bergman and Lotte Konow Lund.