Carroll Dunham: Did we get him now?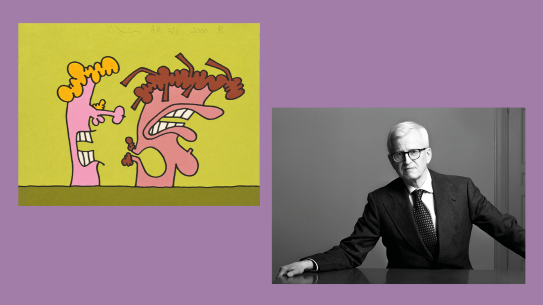 In this lecture, art historian Åsmund Thorkildsen will delve into Carroll Dunham's artistic practice. How do natural urges find expression in his works? 
Carroll Dunham broke through as an artist in New York in the early 1980s, and is today internationally known for his paintings, drawings and graphics. His works contain references to art history, popular culture and personal experiences, and show a wide range of styles, motifs, themes and techniques. The current exhibition Carroll Dunham. Where am I? Prints 1985–2022 at the National Museum shows a selection of works gifted by the artist to the museum in 2022.  
Thorkildsen is an expert on American post-war art and is a former director of Drammens Museum, Astrup Fearnley Museum and Kunstnernes Hus. He has arranged many significant exhibitions and publications in Norway and abroad, including the 2006 exhibition CARROLL DUNHAM. Small Drawings 1991–2005 at Drammens Museum.