A & B all the way to Z (an unexpected ode to wrestling)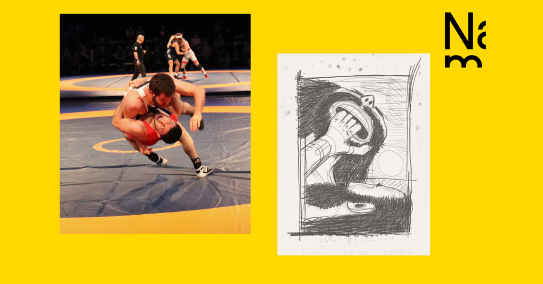 In this talk artist Mathilde Carbel lets Ali Rahimi and Exauce Mukubu from the popular NRK show "Hodet i klemme" meet wrestling motives in Carroll Dunham's art.
As a part of the exhibition "Carroll Dunham. Where am I? Prints 1985–2022", Danish artist Mathilde Carbel will trace the figure of Dunhams wrestler through art history, connecting the dots, looking at the limits of our perception, fantasies and art. She says: «If ever there is an overlap between the arts and sports it must be that they are both a playground, an arena, and a testing ground. A place where rules can be suspended or followed or made up ever so slightly, in the hopes of an unexpected outcome. »
Dunham had his big breakthrough as an artist in New York in the early 1980s, and is internationally renowned for his paintings, drawings and prints. Dunham's work contains references to art history, popular culture and personal experiences, and presents a wide range of styles, motifs, themes and techniques.
Mathilde Carbel (1990, Denmark) lives and works in Oslo. Carbel is currently the curator for BO gallery and has studied at CAFA, Central Academy of Fine Art, Beijing, China, and later at Goldsmiths College, London, UK. She has exhibited at Destiny's Atelier and at ARIEL, Feminisms in the Aesthetics in Copenhagen, and worked at Kunsthall Oslo from 2016-2022.
After the talk Rahimi and Mukubu will demonstrate a selection of wrestling techniques.
The presentation will be held in English.