"No Trespassing" by Nigel Finch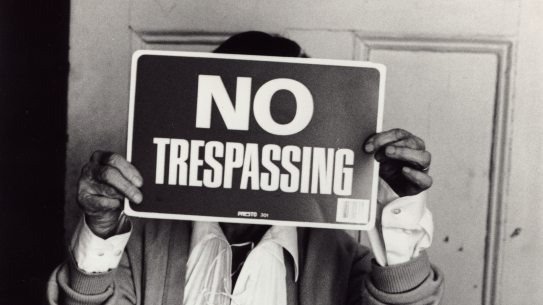 In this television documentary from 1994, you meet the eighty-two-year-old Louise Bourgeois through the British filmmaker Nigel Finch's camera lens. This portrait of the artist was made at a time when Bourgeois herself was creating her iconic cell installations, which invite viewers to observe and follow a series of fictional and fragmented stories.
The documentary itself also has a fragmented form, where you just meet Bourgeois in her own home and studio in New York. It allows you to experience an artist who is both being staged and who also stages herself.
In her introductory talk before the film, curator Briony Fer takes a closer look at the relationship between bodies, homes, and houses, something Bourgeois herself was interested in ever since she began creating art in the 1940s. Fer also discusses the very concept of staging an artistic identity and how this staging affects our understanding of Bourgeois' life and art.
About the film:
Running time: 54 minutes
Language: English
Subtitling: No subtitles
Year: 1994
The screening is part of the events programme for the exhibition "Louise Bourgeois. Imaginary Conversations".