The Engegård Quartet plays Schubert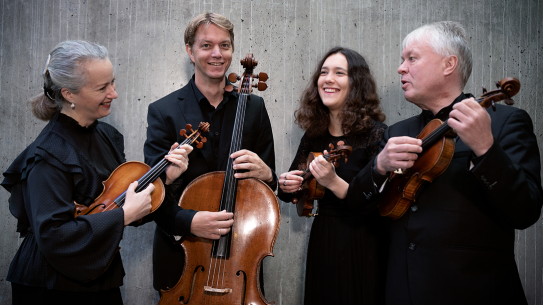 Welcome to the Engegård Quartet's second recital in the National Museum. In January they recited Mozart and Kvandal, and on June 10 they'll recite Schubert's String Quartet no. 15 in G major, D 887, composed in 1826.
The String Quartet was Schubert's last quartet and was released after his death in 1851 under the name Op. 161. Written in only 10 days, Schubert creates a musical piece that takes us out of the classical ideal where everything is balanced and into something more of a horror movie or a nightmare.
Formed under the midnight sun in Lofoten in 2005, the Engegård Quartet has rapidly become one of Norway's most sought after ensembles. Their bold, fresh interpretations of the classical repertoire combined with a deep attachment to their Scandinavian roots has attracted international acclaim and inspired some innovative partnerships and programming. The quartet's debut CD was praised as 'breath-taking' in The Strad, while their second release won Pizzicato magazine's 'Supersonic Award'. Their recent CD of works by Grieg, Sibelius and Olav Anton Thommessen was praised by Tully Potter in Music Web International as 'what Grieg lovers have been waiting for'.
 
The Engegård Quartet
Arvid Engegård og Laura Custodio Sabas - violin 
Juliet Jopling – viola 
Jan Clemens Carlsen - cello 
Recital program
Schubert's String Quartet no. 15 in G major, D 887 in four movements:
Allegro molto moderato
Andante un poco moto
Scherzo. Allegro vivace – Trio. Allegretto
Allegro assai