The Damned, The Possessed, and The Beloved: A conversation about art, architecture and witchcraft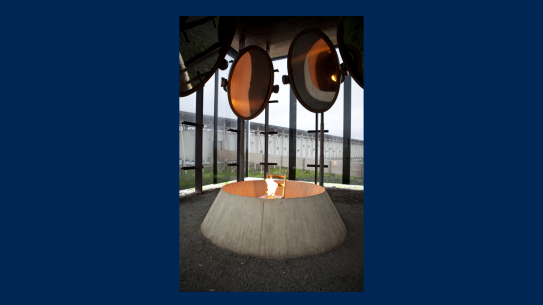 Louise Bourgeois' work The Damned, The Possessed and The Beloved (2011) was the artist's last monumental work. The site-specific installation at Steilneset in Vardø was begun during the last years of Bourgeois' life, and is a memorial to the witch persecutions in Finnmark in the 17th century.
The artist's burning metal chair shows an eternal flame surrounded by seven large mirrors; towering figures that can be experienced as both threatening and protective.
Bourgeois' installation is placed inside a pavilion designed by the Swiss architect Peter Zumthor. Through their collaboration, Zumthor and Bourgeois created this destination in Vardø, where a dark chapter in Norwegian and European history meets art and architecture.
 
In this conversation you get to know the Steilneset memorial site better, in a conversation with curator Briony Fer and artist Knut Wold. As a curator for this project, Wold brought Zumthor and Bourgeois together. Wold also knew Bourgeois personally. Fer and Wold will discuss how the project evolved through many years of collaboration, and how the memorial was designed to respond to the remote landscape of Vardø.
The conversation is held in Salon Louise Bourgeois in the exhibition in The Light Hall. Participation is free of charge, but you must have a valid entrance ticket to the museum. Limited seating.