Film screening: !War !Women Art Revolution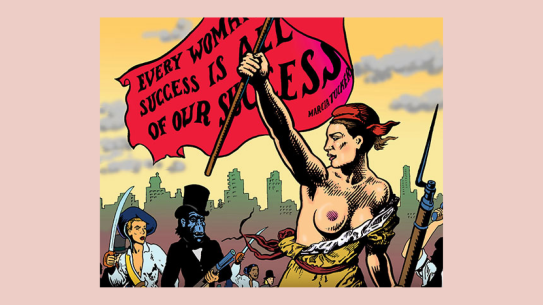 For forty years, the director and artist Lynn Hershman–Leeson documented women's artistic careers as well as the communities they were a part of in the United States. Featuring many different artists and critics, the film recounts how the feminist movement of the 1960s opened up the role of women as both artists and political activists.
The film introduces you to exhibitions, performances, and historical events, and you will meet artists, critics, and curators through interviews, archive material, and other types of documentation. The cultural shift that resulted from the feminist movement and from art produced by women is heralded today as one of the most important artistic developments in modern times. In the film you meet artists such as Yoko Ono, Miranda July, Judy Chicago, Marina Abramovic, Cindy Sherman, Barbara Kruger, Miriam Shapiro, the Guerrilla Girls, and Faith Ringgold. Through its unique documentation, the film tells the "secret" history of leading women who have profoundly changed art.
In 2012, the Museum of Modern Art in New York named !War !Women Art Revolution as the best documentary film that year.
About the director
Lynn Hershman-Leeson is a multimedia artist and filmmaker who typically examines interactions between society, people, and technology. She has studied museum administration and art studies at the University of Cleveland and art criticism at San Francisco State University. Hershman-Leeson has also worked as an art critic. Her art was gradually discovered as part of the feminist art movement in the United States, and today she is one of the movement's most high-profile artists. Hershman-Leeson lives in San Francisco and New York, where she also worked.
For more information, please see Lynn Hershman-Leeson's website.
The Pillars
!War !Women Art Revolution is being shown as part of the events programme for the National Museum's international showcase room the Pillars, which largely presents international art by women from 1920 to the present day. In the Pillars you can experience art by Faith Ringgold, who is one of the documentary's featured artists.
About the film
Running time: 1 hour and 23 minutes
Original title: !WAR !Women Art Revolution 
Country: United States, 2010 
Direction: Lynn Hershman-Leeson 
Language: English
Subtitles: