Helen Frankenthaler in Her Time and Now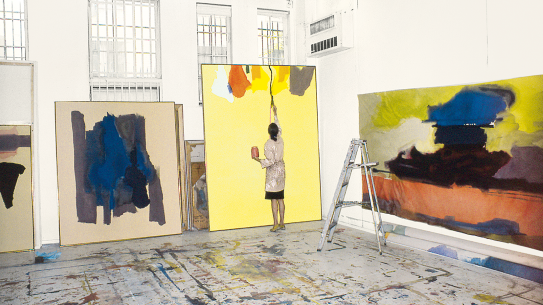 Welcome to a lecture by curator Elizabeth Smith where Helen Frankenthaler's art is illuminated over six decades! 
American artist Helen Frankenthaler (1928–2011) is recognized as one of the leading figures of the New York-based second-generation Abstract Expressionists. Through her invention of the soak-stain technique, Frankenthaler expanded the possibilities of abstract painting and produced a body of work which had significant impact on her contemporaries and on later artists. She was also a noted printmaker, heralded particularly for her work in the woodcut medium. Tracing her development over a six-decade career, the talk will consider her work in painting and printmaking now on view at the National Museum.
Elizabeth Smith joined the Helen Frankenthaler Foundation as its founding Executive Director in 2013. Previously she held curatorial positions at The Museum of Contemporary Art, Los Angeles; the Museum of Contemporary Art, Chicago; and the Art Gallery of Ontario, Toronto. As an art historian, curator, author, and educator, Smith is a noted expert on the work of Helen Frankenthaler. Her recent essays include contributions to the publications Revolution in the Making: Abstract Sculpture by Women 1947–2016 and Action/Gesture/Paint: Women Artists and Global Abstraction 1940–1970.
The lecture is part of the dissemination program for the Pillar Room, where Helen Frankenthaler's work Sentry from 1976 is shown together with artworks by other leading women within Abstract Expressionism, such as Lee Krasner (1908–1984) and Joan Mitchell (1925–1992).