Jennie Bringaker: "Overwhelmed"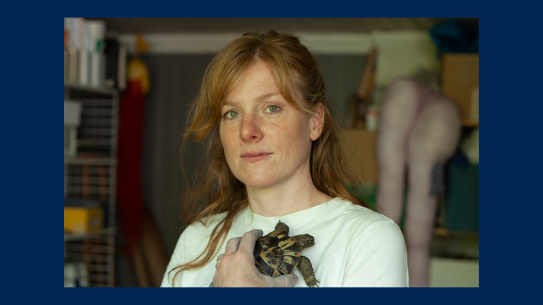 The artist Jennie Bringaker refers to Louise Bourgeois as a "beacon in the history of art", and she has herself been inspired by how Bourgeois both creates, and re‑creates art.
Bringaker's performance Overwhelmed, which she created especially for the exhibition "Louise Bourgeois. Imaginary Conversations", is about the experience of bearing a weighty burden, even while this burden has become part of your body and identity. Without the shell, you become naked and exposed. And like an armour, the shell protects you against external threats, but it also prevents you from moving about freely.
Similar to Bourgeois, Bringaker uses her own personal experiences and emotions to create physical objects. Bringaker is interested in how physical forms can be used to stage or reconstruct events and relationships.
"I am interested in personal experiences that connect your body and your emotions,  typically during a crisis or a conflict," Bringaker explained while she was planning the performance. "For me, it's all about hands that shape and touch and create and re‑create. The shapes come into being, or are retrieved as though from a card index, as stagings or reconstructions of events and relationships, so simplified and at the same time so complex that they touch something profoundly human."
Overwhelmed will be performed by the dancers of SUPERNOVA, and can be experienced four times during the exhibition period. You can also become better acquainted with Bringaker and her art at a salon conversation on 20 June.
Jennie Hagevik Bringaker is a scenographer and visual artist who trained at Østfold University College and New York University. Together with Tor Erik Bøe she founded the performance platform Trollkrem (2013–18). Bringaker works with sculpture and explores materials such as stone, textile, metal, and pottery, and she has recently shown her works at venues such as Kunstnerforbundet, the Hannah Ryggen Triennale, MUNCH and the Nitja Centre for Contemporary Art. This spring, Bringaker will be holding her solo exhibition Outsiders at the Femtensesse gallery in Oslo.
SUPERNOVA consists of Rikke Baewert, Loan Thanh Ha, and Ida Gudbrandsen, all of whom are practising contemporary dancers. They produce their work from a performative perspective and explore what they call "performative choreography", which entails that the work is choreographed from within and becomes a growing artistic organism with a will of its own. The works they create are never clearly defined or completed, but embody and demonstrate a sense of becoming.