Exhibition opening: Queer folk dress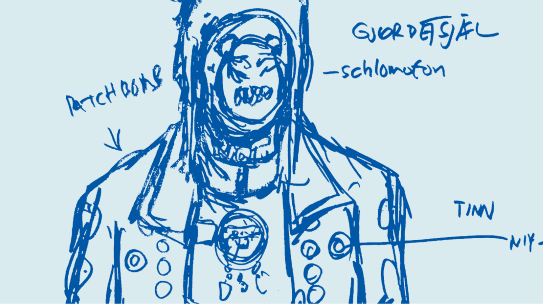 The National Museum, Valdres Folkemuseum and Hilme have the pleasure of inviting you to the opening of the touring exhibition "Queer folk dress"!
For millennia, cultures everywhere in the world have used textiles, patterns and colours to say something about who they are and where they come from. Clothes, accessories and travel utensils can convey a sense of rootedness and belonging, identity and custom, but they can also be used to express vulnerability, individuality and political protest.
In this exhibition, the six contemporary artists Harald Beharie, Lin Wang, Márjá Karlsen, Christian Blandhoel, Rafiki and Håvard Kranstad have taken a deep dive into various cultures and traditional crafts. They have engaged in dialogue with craftspeople and knowledge bearers to create their own statements in everything from photography and textiles to ceramics, noise music and dance.
The exhibition's first stop is Valdres Folkemuseum on 17 June. This is the first of eight venues scheduled so far for the exhibition, which will travel across Norway and Sápmi over the next two years. See whether the exhibition is coming to somewhere near you!
Admission to the opening event is free, but you must reserve a ticket to take part. Click here to book.
Welcome!
Programme
17.00–17.45
Pride parade through the town centre. Meet at the car park beside the Shell station from 16.30.
18.00–18.30
Exhibition opening hosted by Dávvet Bruun-Solbakk.
Speakers will be the National Museum's director of collections, Stina Högkvist, curator of the exhibition, Maja L. Musum, and director of Valdres Folkemuseum, Ole Aastad Bråten.
Live music.
18.30–22.00
Open exhibition.
Music and pop-up activities in collaboration with Hilme all year round:
• Intimate concert with Jan Beitohaugen Granli
• Intimate concert with Marit Karlberg and Øyonn Groven Myhren
• "Halling" dance with Eilif Hellum Noraker
• Crash-course in the "springar" dance with Stian Roland and Tone Voldhaug
19.00–19.50
Artist conversation led by Justine Nguyen, with Harald Beharie, Christian Blandhoel and Márjá Karlsen.
21.00–03.00
Tuvas blodklubb with karaoke and DJs.
About the exhibition
"Queer folk dress" has been developed in collaboration with a number of external specialists, artistic advisers and costume producers, the Norwegian Institute for Bunad and Folk Costume, Valdres Folkemuseum, Randsfjordmuseet, Museum Stavanger and Bodø Capital of Culture 2024. The project is an initiative of the National Museum.