Pink Flamingos by John Waters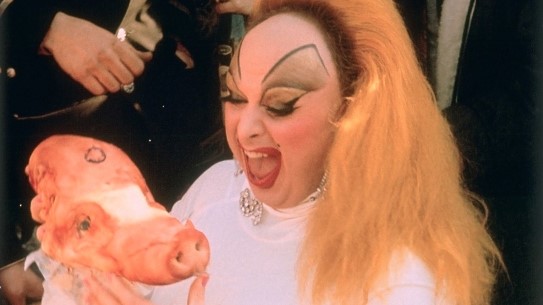 In collaboration with Oslo Pix Film Festival, the National Museum presents Pink Flamingos (1973) by John Waters.
'One of the most vile, stupid and repulsive films ever made.'
This is how Pink Flamingos was described in a scathing review in the film magazine Variety in 1973. John Waters's trash masterpiece is an example of American cult cinema at its very best. The film is as shocking, and funny, today as when it was first released 50 years ago. Its main actor, Divine, remains one of the greatest queer icons to this day.
Babs Johnson, played by Divine, is on the run from the police. She hides in a trailer outside Baltimore with her son Crackers, her girlfriend Cotton and an egg-loving mother. When a tabloid magazine names Babs 'the Filthiest Person Alive', a local married couple is provoked; they are certain they themselves deserve the title. They devise a plan to outdo Babs. John Waters – also called 'the Pope of Trash' – gained attention by making transgressive underground films in the 1960s, but it was not until Pink Flamingos was released that he enjoyed a bigger breakthrough. By challenging established boundaries for what is acceptable to show on film, and, not least, by exploring the public's ideas about good and bad taste, he stands behind some of the most central queer classics from the 1970s, '80s and '90s.
About the filmmaker
John Waters (b. 1946) is an American filmmaker, author, actor and artist, famous for his transgressive cult movies. As a feature film director he began a long-lasting collaboration with the actor and artist Divine, making Mundo Trasho (1969) and Multiple Maniacs (1970) before releasing his most notorious film Pink Flamingos (1972). This was followed by Female Trouble (1974) and Polyester (1981). Hairspray (1988) became a big hit and led to a Broadway musical in 2002, eventually also a new film version in 2007.


Motstrøms
The screening is part of Motstrøms, a film series in which the National Museum shows films that entertain, challenge and push boundaries. In 2023, we showcase both classics of queer cinema and new films from the borderland between mainstream cinema and art.
Technical details
Director: John Waters
Country: USA
Year: 1973
Length: 1 hour, 48 minutes
Language: English