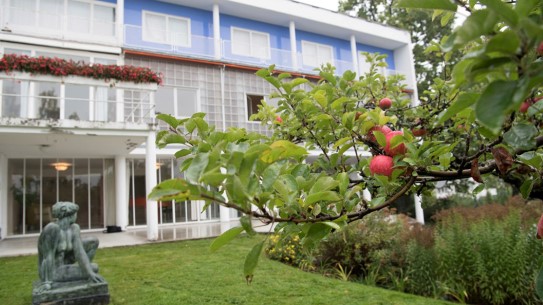 Welcome to Open House at Villa Stenersen every Sunday in September and October!
Villa Stenersen was designed by Arne Korsmo and is considered one of the foremost examples of Norwegian functionalism (modernism). 
The villa is one of Korsmo's best-known works. Commissioned by Annie Stenersen and the art collector and financier Rolf E. Stenersen in 1937–1939, the villa is now listed as a building of national importance by the Directorate for Cultural Heritage. An ongoing restoration project is gradually reinstating the original colours and materials.

All tours are now fully booked.
Visitors are also welcome to play in the garden!
Getting to Villa Stenersen:
Take Metro Line 1 (Frognerseteren) to Vinderen Station, or Line 2 (Østerås) or 3 (Kolsås) to Borgen Station. The villa is about 10 minutes' walk from either Metro station. The villa is at the end of a small road leading off Tuengen allé. NB: It is not possible to access the villa on foot from Borgenveien.
Cars may enter the property to drop off visitors with reduced mobility, but there is no on-site parking. There is street parking on Tuengen allé.
Accessibility
Villa Stenersen reflects the era of its construction and does not meet modern accessibility standards. There are stairs inside and outside with handrails on both sides. Wheelchair users can access the raised ground and first floors via the garden provided the wheelchair is narrower than 90cm.