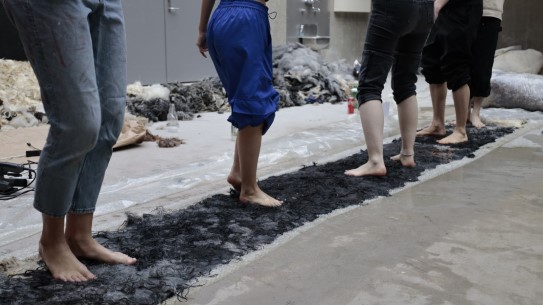 Join artists Amanda Vesthardt and Lydia May Hann in a collaborative workshop in response to their 'Shepherd's Bridge' sculpture which hangs in the museum`s vestibule and the exhibition Oltre Terra. Why Wool Matters.
Come together to felt a giant fleece using wool from Norway's unique sheep breeds. In this workshop you will get elbows deep in this often overlooked natural resource, playing with the wool's luscious textures and colours and learning about its magical properties.
The workshop will be a fun collaborative experience where you can expect to get a bit wet, messy and active so please dress accordingly. 
Due to the possibility of bacteria from the sheep in the wool, this workshop is not suitable for those who are pregnant or medically vulnerable.
No animals were harmed in the preparation for this workshop. The wool we use comes from Norilia.
The drop in workshop is open to all with an entry ticket to the museum.