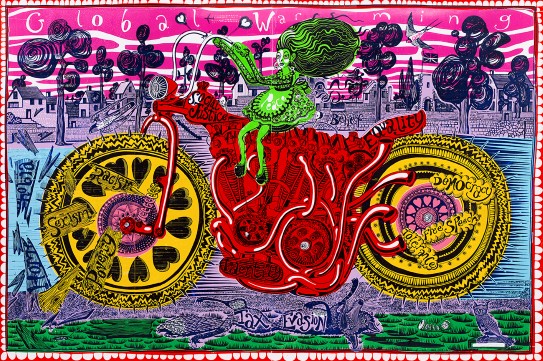 Grayson Perry
Grayson Perry is one of Britain's most celebrated and internationally acclaimed artists. In the autumn of 2022, his works will be shown at the National Museum, in his first-ever solo exhibition in Norway.
In 2003, Perry won the prestigious Turner Prize for his innovative pictorial stories and his incisive satirical depictions of English cultural and social life. Coming from the field of fine art, he began experimenting with ceramics as an artistic expression in the 1980s. Although Perry now works in a range of media, it is his ceramic vases painted with humorous and provocative stories that have become his trademark.
Great diversity
The exhibition will offer insight into Grayson Perry's artistic practice from the 1980s to the present. It includes ceramics, sculptures in wood and metal, prints, monumental tapestries and embroideries. His interest in crafts and the culture of objects is also highlighted. Seen together, the works and genres in all their diversity represent central themes in Perry's art.
Exposing and challenging
Perry's personal and interpersonal views on society will feature prominently in the exhibition. The works revolve around themes such as identity, social classes, gender roles and consumer society. His art exposes and challenges society's norms, values and taboos, all of which are structures that influence how we see and express ourselves – and how we are seen by others.
The exhibition is a collaboration between the National Museum, Grayson Perry and the Victoria Miro Gallery in London.