Close Encounters: Lars Hertervig's "The Tarn"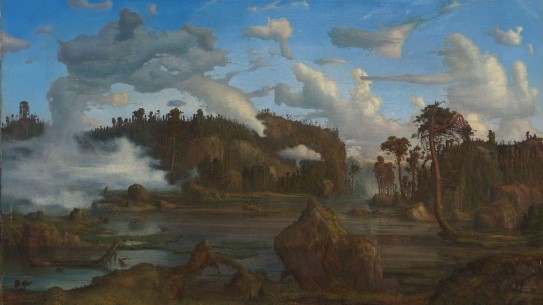 Lars Hertervig painted landscapes that were hazy and almost dreamlike. While many national romantics rendered realistic interpretations of nature, Hertervig filtered his experiences of nature and offered something new and different. Get to know one of Norway's most fascinating artists and one of his masterpieces; "The Tarn", painted in 1865, in this live broadcast. Why did Hertervig paint like this? What was the artist's relationship to the nature surrounding him?
In this live event from the National Museum, you will meet Kari Greve, paper conservator, and Ingvild Åse Hammervoll, curator education and, not least, The Tarn itself.
When we go live on Facebook and YouTube 26 October, you can ask questions about the work in the comments field and we will do our best to have your questions answered by the experts. You can watch the live stream on this page and in this Facebook-event.  
Is there something you already know you want to ask? Feel free to submit your questions to Senior Communications Advisor, Ellisiv Brattfjord, here and now.
The event is held in English. A texted version will be published on YouTube after the live event.
Close Encounters is an online series from Nasjonalmuseet, where we get close to some of the highlights of the paintings collection.
Watch the recording of the live event from 26 October here