Live on Facebook and YouTube
Close Encounters: Tidemand and Gude's "Bridal Procession on the Hardanger Fjord"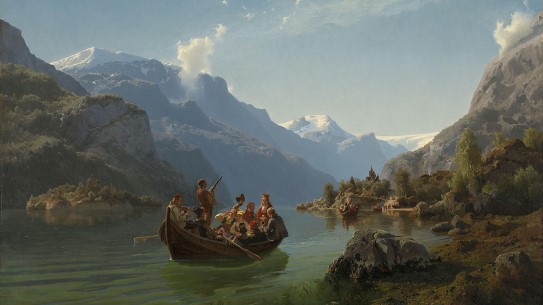 "Bridal Procession on the Hardanger Fjord" is a Norwegian icon. The sunny summer painting with the bridal procession in the boats, the stave church on the headland, and the west-coast nature with fjord and mountains was typical for the depiction of Norwegian nature and life in the mid-1800s.
The 23 year old Hans Gude was in charge of the landscapes, and the ten year older Adolph Tidemand painted the people and the boats. What did they want to accomplish with this collaboration? What makes this traditional motif relevant today?
Ellen J. Lerberg is a senior curator education at Nasjonalmuseet. Alongside paintings conservator Laura Homer she brings you along for a close encounter with one of Norway's most famous paintings. The live broadcast will be taking place at the very special Urnes Stave Church (built in 1130), one of Norway's oldest stave churches. Welcome to this live broadcast in (national)romantic surroundings!
When we go live on Facebook and YouTube, you can ask questions about the work in the comments field and we will do our best to answer your questions.
Is there something you already know you want to ask? Feel free to send us your question right away. You can ask questions in Norwegian and English.
The event is in English. A version with Norwegian and English subtitles will be published on YouTube after the live event.
Close Encounters is a new online series from Nasjonalmuseet, where we get close to some of the highlights of the paintings and drawings collection.
Watch the recording of the live broadcast from 15 May here