Digital launch: What we share. A model for cohousing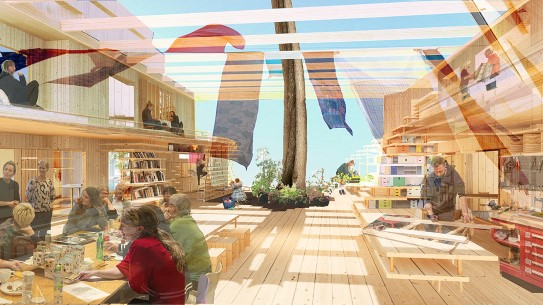 In 2021 the National Museum has curatorial responsibility for of the Nordic pavilion at the Venice Biennale of Architecture. The biennale is considered the world's most important architectural exhibition. 
The National Museum is collaborating on the biennale with the Stavanger- and Oslo-based architectural firm Helen & Hard. In the exhibition What we share. A model for cohousing, they will build a full-scale cohousing project inside the pavilion.
This main theme of this year's biennale is How will we live together? and deals with how architects can create new communities.
Helen & Hard will create a completely new project designed especially for the Nordic pavilion. The project is based on the cohosing project Vindmøllebakken in Stavanger. Vindmøllebakken is designed by Helen & Hard, and is a unique commercial housing project based on resident participation and sustainable solutions. The project won the Norwegian government's award for building quality in 2020. At Vindmøllebakken the residents have relatively small but fully equipped apartments, several shared facilities and spaces, and a vibrant local democracy.
A digital version of the exhibition will be available on nasjonalmuseet.no. The launch will be streamed at the Nasjonal Museums YouTube Channel and Facebook account. Welcome!