Close Encounters: Johan Christian Dahl's "View From Stalheim"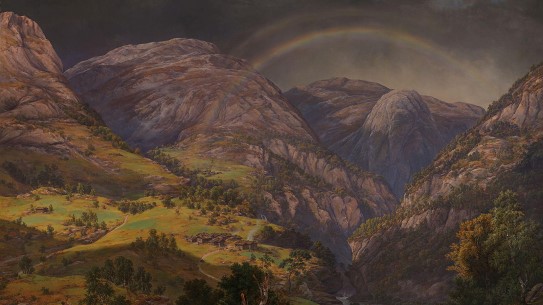 Johan Christian Dahl is known as "the father of Norwegian landscape painting" – and for a good reason. He was the first artist who in a broader sense emphasized, interpreted and painted the Norwegian nature, with an enormous willpower and love for the details of the landscapes.
The painting "View from Stalheim" is a masterpiece and was important for the building of the nation of the new, independent Norway in the 1800s. What brought Dahl to Stalheim? How did he create this painting? What value did this painting have to the artist – and what value does it have today?
Øystein Ustvedt is a curator at Nasjonalmuseet, and together with paintings conservator Thierry Ford, he will give you a close encounter with one of our biggest and most famous paintings. This takes place in very special surroundings, where the painting's motif was born, in Stalheim in the scenic western parts of Norway. Come along!
When we go live on Facebook and YouTube, you can ask questions about the work in the comments field and we will do our best to answer your questions.
Is there something you already know you want to ask? Feel free to send us your question right away. You can ask questions in Norwegian and English.
The event is in English. A version with Norwegian and English subtitles will be published on YouTube after the live event.
Close Encounters is a online series from Nasjonalmuseet, where we get close to some of the highlights of the paintings and drawings collection.
Watch the recording of the live event from 27 June here