Close Encounters: Carl Fredrik Sundt-Hansen's «Burial at Sea»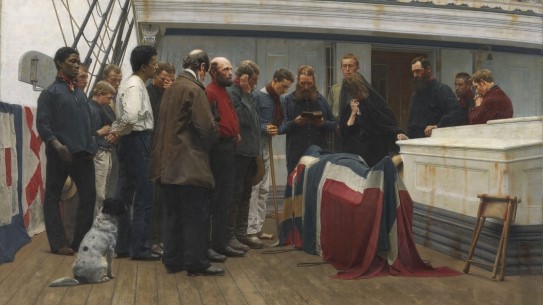 The mysterious and highly detailed painting Burial at Sea may not be familiar to many. The image offers many exciting stories about shipping and life at sea, from the time when the Norwegian artist Carl Fredrik Sundt-Hansen created the work at the end of the 19th century. What did the artist want to say with this artwork? What does the painting tell us about the working conditions at the time? Who are the people in the picture?
The artwork is currently on display at Blaafarveværket, in the east of Norway. Curators at Blaafarveværket, Sandra Lorentzen and Sverre Følstad will talk about the painting and the interest for the sea and life at sea in art. Tord Ørnelund Nilsen, digital advisor at Nasjonalmuseet, is an experienced sailor and will contribute with his sailing point of view and keen interest in sea life history.
When we go live on Facebook and YouTube on 23 August, you can ask questions about the artwork in the comment section, and we will do our best to get the questions answered by the experts.
Do you have anything you would like to ask about the artwork? Feel free to send us your question right away. You can ask questions in Norwegian and English.
The event will be in English, but will be subtitled in Norwegian after the live stream. The recording will be published on Youtube.  
Close Encounters is a online series from Nasjonalmuseet, where we get close to some of the highlights of the paintings and drawings collection.
Watch the recording of the live event from 23 August here