The Nordic Participation at the International Architecture Exhibition – La Biennale di Venezia 2021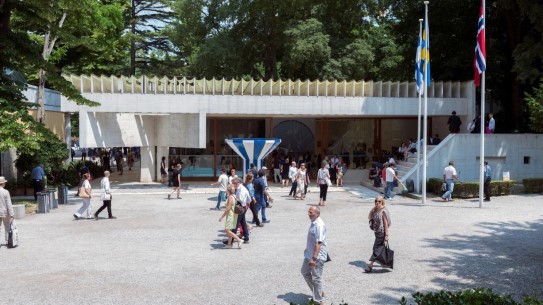 NB! The opening of the architecture biennale has been postponed due to the corona outbreak. The new opening date is 22 May 2021.
The international architecture biennale, arranged every two years, is considered the foremost architecture arena in the world.
In 2021, the National Museum has the curatorial responsibility for the Nordic pavilion. For the bienniale, the National Museum will collaborate with the Norwegian architectural firm Helen & Hard. The project will relate to the main curator Hashim Sarki's concept "How should we live together?", which is about how architects can create new communities.
Helen & Hard
Helen & Hard was founded in 1996 in Stavanger by Norwegian architect Siv Helene Stangeland and Austrian architect Reinhard Kropf. The firm currently employs a staff of 26, and it is known for their innovative use of wood and experimental housing projects. 
Nordic Collaboration
The Nordic Pavilion in Venice is co owned by Sweden, Finland, and Norway. In 2021, the National Museum in Oslo will be in charge of carrying out the exhibition, on behalf of commissioner Stina Högkvist at the National Museum in Norway, and co-commissioners Reetta Heiskanen at the Museum of Finnish Architecture and Kieran Long at ArkDes, Sweden's National Centre for Architecture and Design. Statsbygg, the Norwegian Directorate of Public Construction and Property, will renovate the pavilion before the opening.
For more information about «La Biennale di Venezia», visit the exhibition's website.