A market for cohousing projects in Norway?
Norway has around 5.4 m. inhabitants living in 2.6 m. homes. Well over half of them live in detached houses. At the same time, the average number of people per private household is only 2.15. There is a great potential for more communal forms of housing.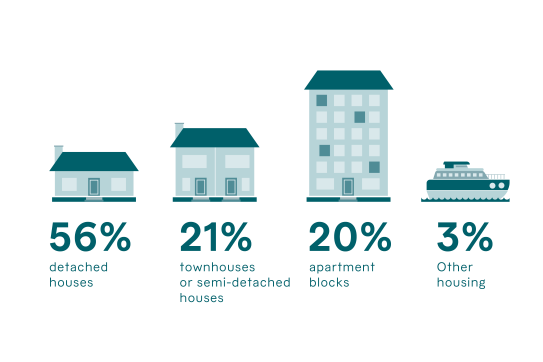 There are many benefits to living together. A more social form of housing can help counteract loneliness and contribute to increased security. At the same time, sharing space and equipment is better for the environment. Moving people together could alone reduce the amount of land used for housing by as much as 30 per cent.
The number of people living alone is highest in the cities. People living alone experience loneliness to a much greater degree than others[1]. During the coronavirus pandemic, many report struggling with loneliness and mental illness[2].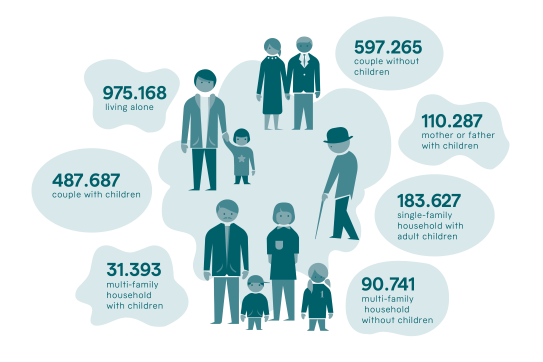 Today, only 2.4 per cent of homes in Norway make up some form of cohousing projects. This includes special needs homes and senior housing. Although several new projects with co-living solutions have been built in recent years, there are still few cohousing projects with a high degree of communal activity[3]. Cohousing projects are much more widespread in Sweden and Denmark[4].
interested in more communal forms of housing. The survey Future Living from 2021 prepared by the Prognosesenteret shows that many people think that cohousing projects seem to be an attractive form of housing[5]. 26 per cent are positive about sharing rooms and facilities with others based on their current life phase. The number is even higher among young single people and older adult single people. 35 per cent of them could see themselves moving in to such a housing concept in the near future or later in life.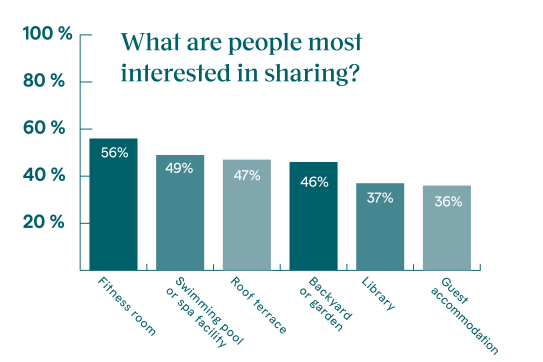 Among those surveyed in the Future Living survey who want to move into a cohousing project, many are interested in how it can contribute to increasing both social interaction and security. 12 per cent are willing to have a smaller private kitchen if they have access to a larger common kitchen, and 14 per cent state that they can manage with a smaller separate living room if they have access to a larger common living room or function room. For 15 per cent of the respondents, access to a shared laundry room with drying facilities would enable them to manage with a smaller bathroom.
Sources:
[1] Solheim, Eline. 2018. Experiences from alternative forms of housing. Master's thesis. Norwegian University of Science and Technology (NTNU).
[2] Norwegian Institute of Public Health (FHI). 2021. Quality of life and mental health during the COVID-19 pandemic, November–December 2020.
[3] City of Oslo. Communal living
[4] USBL. Unlike all other housing cooperatives, 2020
[5] All the statistics presented below are from the Future Living report.