The exhibition "What we Share" was developed in collaboration with a group of residents living in a cohousing project, Vindmøllebakken in Stavanger. Here you can get to know the residents and hear their thoughts about life in a cohousing community.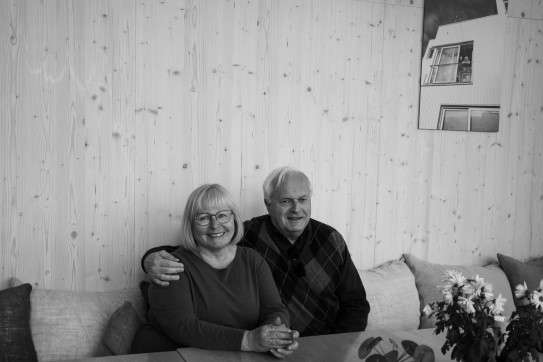 Andreas
I am retired, but worked as a lawyer on everything from organisational development to HR. Before we moved to Vindmøllebakken, I lived with Anita in a large penthouse. I've been interested in cohousing projects for a long time and really wanted to get involved in this project when I heard about it. Many people have strong opinions about cohousing and couldn't imagine living like this, but I don't care what people think. This works very well for me. I feel like I've moved from material luxury to social luxury. In the time it takes me to walk out the door and be on my way, I've already greeted four neighbours. It's a gift!
Anita
I moved to Stavanger 40 years ago as a recently graduated nurse. I've had several jobs and led an ecological foundation, but now I'm retired. Ecology and circular economy are issues that are close to my heart, and I am concerned about how we can leave a smaller footprint on the earth and live more sustainably. One of the reasons we moved here is because I'm interested in architecture and design. I actually had a dream of becoming an architect. The fact that so many different people live here, and that we can do things together across generations, is very good. Living in a cohousing project feels very safe and there's always someone who can help in the event of an accident. The only thing I miss are larger green spaces.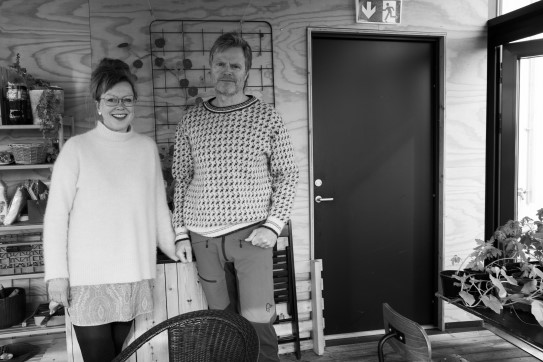 Anne Siri
I'm a 54-year-old physiotherapist and gestalt therapist from Stavanger. I used to live in a large detached house, but wanted to try something new when the children moved out. I entered a new phase in my life and wanted to live a little differently. Now that I've lived in a co-living community with my husband for a while, I think a 'normal' housing situation seems very boring. The nice thing about living with others is that a lot more things happen than what I initiate myself. At the same time, I like to be able to be alone when I feel like it. One of the best things about living here is the morning meditation. I also really appreciate the garden room, but wish we had a larger green space where we could grow more vegetables. Maybe we could also have some communal kayaks since we live close to the water.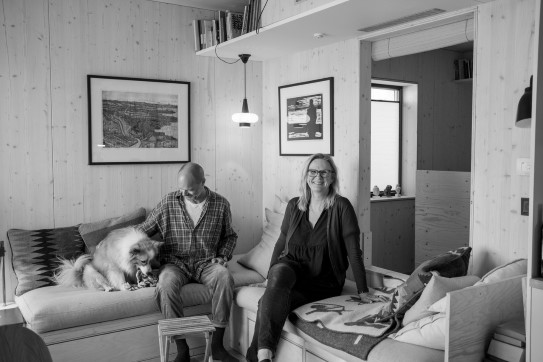 Irene
I was born in Stavanger and studied social anthropology in Bergen. Right now I work in the Petroleum Safety Authority Norway. We have five children. I have two sons and Endre, my husband, has a son and a daughter. Togehter we have a daughter who we informally adopted and who moved in with us when she was 18 years old. We also have a dog. I've always been interested in the environment, so that was one of the reasons we moved here. At the same time, I missed being part of a community. I am an anxious person, so I need security. When you live in a cohousing project, there's always someone who cares, and you feel that you're taken care of. I also think it's wonderful to be able to have a glass of wine in the garden room. Personally, I'm not that interested in gardening, so it's nice that others take care of that bit. In general, I'm willing to share a lot. But I draw the line at sharing a toilet! However, I wish it wasn't so expensive to buy a flat. This means that not everyone has the opportunity to buy into the cohousing project.
Endre
I grew up in Åsgårdstrand, but have lived in Stavanger for 20 years. I'm a trained archaeologist and used to work in a museum. I have done some research, and I spend a lot of time reading books. I'm very interested in sustainable architecture and community models. When I moved into Vindmøllebakken, I realised this was something I had always longed for. I didn't really know what I was getting into, but I think it works surprisingly well. You are surrounded by people who wish you well. I was more antisocial before, but now I miss the other residents and the community when I'm away. I think sharing time with others is nice. We do a lot of that in Vindmøllebakken today. I think there's a good balance between the private and the communal. We already share a cabin and our car with others, but would also like to perhaps loan out our flat when we are away.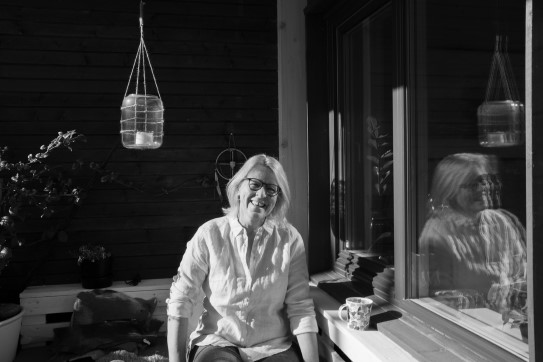 Tone
I'm 59 years old, a Social Worker, and am engaged in social work. I have a grown-up daughter. It was first and foremost the idea of community that I fell for. Together we are less alone, and together we are stronger! I think we're all proud to live here and proud of what we have achieved. For me, tradition is also important, and we celebrate everything together here, for instance the Constitution Day. I think of the co-living community as a kind of extended family or standby, where we organise and help each other. For example, now that new babies have arrived in Vindmøllebakken, we have got together and knitted warm blankets for them. What I think is most important to share is the responsibility for organising things. I myself am an organiser type and like to get things started. For example, I started a yoga group.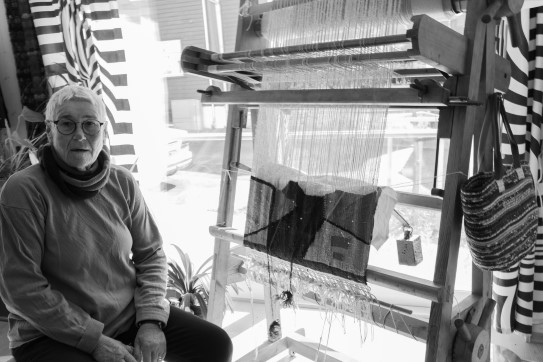 Asta
I am 75 years old and grew up on a farm in the Jæren lowlands. I used to work as an occupational therapist, but have also studied in Oslo. It's natural for me to share, and I wouldn't have any problem sharing the toilet and shower. On the farm we had a three-seater outdoor toilet, so it was quite social! I used to live alone in a house with a lot of stairs. I'm glad there's an elevator here in Vindmøllebakken. When they started working on the project, I immediately thought it sounded really good, and I attended some of the workshops. I met people there who later became my neighbours. Since then I've had no regrets and now I'll never move again! What is so nice here is that everyone looks out for each other. If there's someone we haven't seen in the communal area for a while, we'll contact them immediately. Now I am retired, and really enjoy living in Vindmøllebakken. I don't think I could have it any better as a pensioner!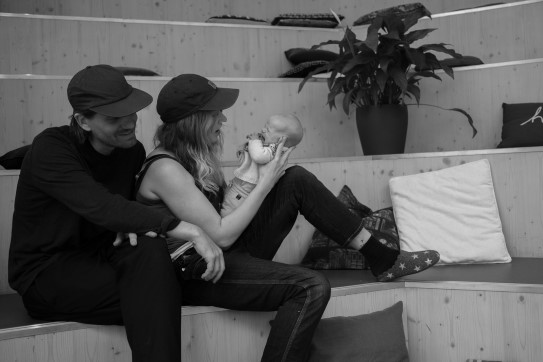 Anna
I'm an artist and have just become a mother for the first time. I'm a home-loving type who thought that living in a shared home felt relevant and in line with my values. I have lived a lot with others in the past, and like to share a home with people from different backgrounds and different ages. We're like an extended family. During the pandemic it's become a little calmer, with gatherings in smaller groups. I would like to have had and shared a garden. The ultimate would be to raise chickens!
Espen
I'm an artist, and Anna and I bought our flat here half a year before they started building. I'm pretty antisocial, but I like the security of living around so many people. Most people know and respect that I don't participate in everything. I think this form of housing can suit everyone, as long as you are not too quarrelsome! We're extremely happy with the small flat we have here, and think it's good for our child to live here. I like to share food; the common denominator in the social aspect. Anna and I are part of a vegan group here that meets weekly to share recipes.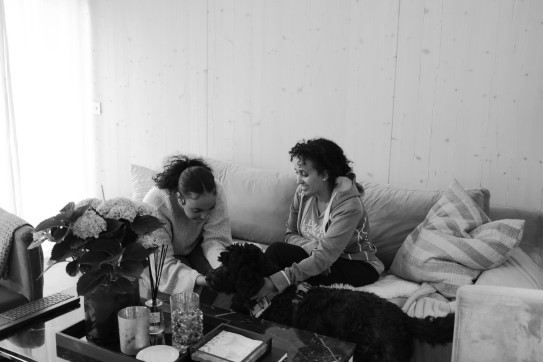 Genet
I'm originally from Eritrea. I have two daughters aged 18 and 22. The oldest is studying to become an architect in Oslo, and Samantha goes to high school and lives at home.
I was tipped off about this project by a friend. I have to admit that I was a little sceptical at first, but now I think it's very nice. I bought the flat early and have lived here since the beginning. The planning process before we moved in went very well, but it takes time to establish a community. I have very nice neighbours. You can just go and knock on the door and have a cup of coffee together. We can all give a helping hand. It all feels very safe. At the same time, you're welcome to withdraw if you wish. Friends who visit think that it seems pretty nice here. For me, what we share socially is the most important thing.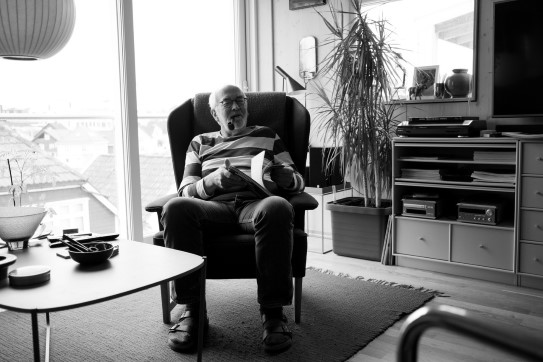 Sjur
I have a degree in architecture from Germany and have run my own architectural office for a long time. I became a widower many years ago, and before I moved here I lived in a detached house with a large garden. I quickly found out that this cohousing project was something for me. I like good architecture and am interested in community. You probably have to be fairly broad-minded and open to live like this. I like to have people around me, the everyday meetings in the communal areas. I use the communal kitchen for large dinners, and work a lot in the workshop. More storage space and a fitness room are the only things I miss.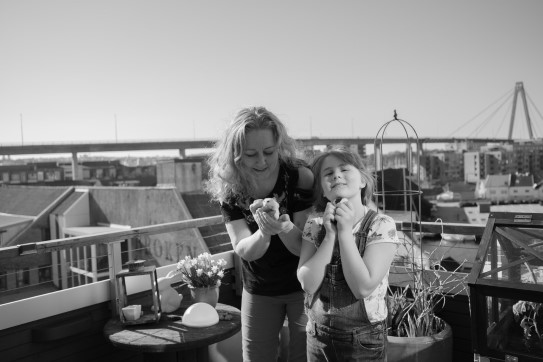 Selma
I'm 11 years old, go to Nylund School and live with my mum and two hamsters, Pontus and Snowball. I like the walls here, made of wood, they smell fresh, like the forest. My friends like to come home with me. We borrow the living room in the basement for birthday parties. We also have a Halloween party, when the entire Vindmøllebakken becomes a cemetery. When I moved in, there were no other children here, it was boring. Now we are seven girls (three of them are babies), and no boys. That's quite fun! I would like to share even more with others: more play areas, a zip line and an indoor real play forest!
Bodil
I'm Selma's mother, am environmentally conscious and self-employed in sustainability and tourism. I'm very glad we ended up here. I expected to meet many like-minded people, but discovered that we're not as similar as I had expected. Part of the experience is to learn to accept this, and understand that people are different and have moved here for different reasons. For example, everyone isn't as concerned about conserving energy and water as I am. Our own terrace compensates a lot for the fact that we only have 46 square metres of private living space. It's very positive that we have expanded our social network, share our home with many others, and that Selma has other kids to play with. We share time and knowledge, and spread engagement in things that interest us, some more than others. The co-living community is shaped by those who live here.
The photographs are taken by Michael Walde, who also lives in Vindmøllebakken.