Gerhard Munthe. Incredible Interiors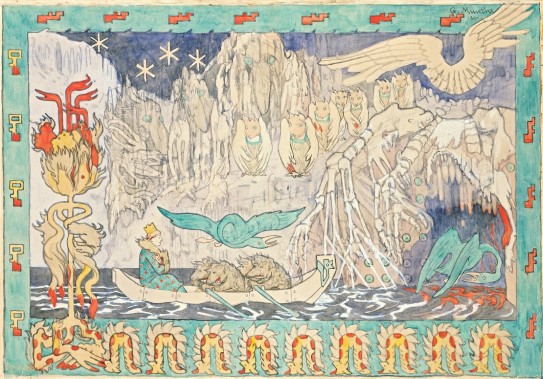 Opening hours
Untill 19 June:
Monday: Closed
Tuesday–Friday: 9–16
Saturday/Sunday: 11–18
19 June to 15 August:
Every day 11–18
Adress
Kjelsåsveien 143
0491 Oslo
Experience the artist and design pioneer Gerhard Munthe at the Norwegian Museum of Science and Technology this summer.
Gerhard Munthe (1849–1929) interpreted Norwegian folk tales and legends, but was also inspired by Japonisme and Art Nouveau. He was a highly productive artist, covering most aspects of the applied arts. Munthe is regarded as Norway's first industrial designer and in his time attracted attention both at home and abroad.
A total of nine original works is included in the exhibition, including Eventyrstolen (The Fairy Tale Chair) (1898), which originally stood in the Fairy Tale Room at Holmenkollen Tourist Hotel.
In addition to several original watercolours, you will see a number of photographs of Munthe's most important room decorations. Get to know the artist's home, Leveld, in Lysaker, Strand farm in Numedal and Håkonshallen in Bergen. You will also see colourful murals, stained glass windows, furniture and wrought iron work. Join the rich fantasy world of one of the most radical Art Nouveau artists in Europe around the turn of the century!
See the Facebook event here and register to get updates about the exhibition.
The exhibition is under the auspices of the National Museum and is curated by senior researcher at the National Museum, Widar Halén, in collaboration with guest curator and art historian Jan Kokkin. The educational programme is curated by Curator Learning Helga Gravermoen. The exhibition is designed by Torsteinsens Design.
The exhibition has previously toured around the country, with stops in the north, south, west and east.