Summer adventure. The National Museum at Blaafarveværket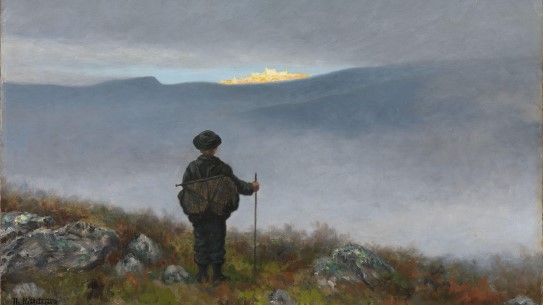 Opening hours
5 June – 20 June: Monday: Closed, Tuesday–Sunday: 11:00–17:00
21 June – 15 August: Every day: 11:00–17:00
16 August – 16 September: Monday: Closed, Tuesday–Sunday: 11:00–17:00
Adress
Koboltveien 11
3340 Åmot
This summer you can experience 60 paintings from the National Museum's collection at Blaafarveværket.
The exhibition Summer Adventure follows 19th century Norwegian artists on their travels in Norway and abroad. The exhibition is divided into six different themes: little gems, life and art, bohemians, nature poetry, deserted nature and coastal culture. The paintings show everything, from studies of clouds as they pass across the sky and sunlight as it shines through the leaves of a tree to dramatic storms along the Norwegian coast.
The paintings from the period on display have had a strong impact on Norwegian cultural history. Through their depictions of Norwegian landscapes and everyday life, the artists contributed to shaping the perception of the country's identity and cultural significance.
Artists in the exhibition
Annette Anker, Knud Baade, Harriet Backer, Peder Balke, August Cappelen, Johan Christian Dahl, Halfdan Egedius, Thomas Fearnley, Johanna Marianne Freystein, Hans Gude, Lars Hertervig, Lars Jorde, Kitty Kielland, Theodor Kittelsen, Christian Krohg, Oda Krohg, Peder Severin Krøyer, Kalle Løchen, Edvard Munch, Gerhard Munthe, Asta Nørregaard, Eilif Peterssen, Signe Scheel, Christian Skredsvig, Harald Sohlberg, Evelina Stading, Carl Fredrik Sundt-Hansen, Frits Thaulow, Adolph Tidemand, Gustav Wentzel, Erik Werenskiold, Sofie Werenskiold.
Blaafarveværket
It is very special to be able to exhibit these works at Blaafarveværket, a place with such strong connections to Norwegian art and art history. The nature and landscape here have inspired several artists. The place has well-known links to Frits Thaulow and Theodor Kittelsen. The Norwegian summer atmosphere and the bright nights that inspired so many artists are on clear display at Blaafarveværket.
This exhibition also marks the 80th birthday of Blaafarveværket's director Tone Sinding Steinsvik. Steinsvik established the museum together with her husband Kjell Steinsvik in 1968. The exhibition will reflect their and Blaafarveværket's commitment to promoting 19th century art to the public for almost 45 years.
Art comes home
Summer Adventure is part of Art Comes Home, the National Museum's programme for 2021. During the year, the public is invited to view major works from the museum's collection at exhibition venues such as Kunstnernes Hus, Blaafarveværket, the Queen Sonja Art Stable and the Norwegian Museum of Science and Technology. Several well-known works will also appear in unexpected venues around the country.