Poor Art – Rich Legacy. Arte Povera and Parallel Practices 1968–2015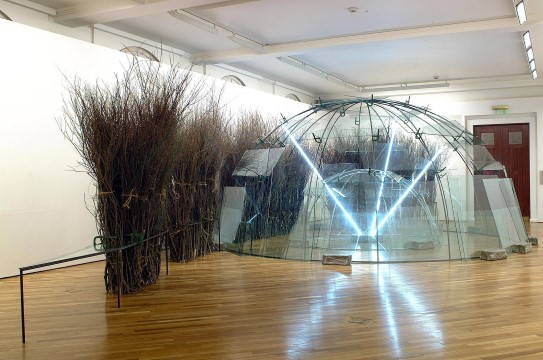 This thematic exhibition of works from the collection concentrates on the arte povera movement, which is central to the museum's collecting policy. This makes it a highly appropriate subject for this exhibition, twenty-five years after the Museum of Contemporary Art first opened its doors. The museum's collection started out with 2,500 works from the period after 1945 that were transferred from the National Gallery and Riksgalleriet (Norway's touring art gallery). It now contains more than 5,000 items by Norwegian and international artists.
This is the last time these treasures will be displayed in the venerable, former Norwegian Bank building, prior to our move to the new National Museum at Vestbanen. In addition to the many arte povera works, the exhibition includes examples of related contemporary practices such as conceptual art, land art and post-minimalism. It also features recent works that illustrate how the art debates of the 1960s have influenced younger generations of artists.
Viewers will have the opportunity to become reacquainted with Gilberto Zorio's installation Untitled (Canoe), a curious amalgamation of energy, alchemy, bubbly chemistry and insistent sound. The audience will also be able to experience Mario Merz' beautiful igloo, a large glass and neon installation with fragrant twigs.
Poor Art
The basis for Arte Povera was furnished by the political protest movements of the late 60s – student revolts and civil rights efforts, and a general opposition to consumerism and the increasing commercialisation of the art world. The term arte povera was introduced by the Italian art critic Germano Celant, who organised the exhibition "Arte Povera – Im Spazio" together with a small group of young Italian artists in 1967. Artists such as Michelangelo Pistoletto, Giovanni Anselmo, Pier Paolo Calzolari, Jannis Kounellis, Giulio Paolini, Guiseppe Penone, Gilberto Zorio and Mario Merz represented something new and groundbreaking. With an artistic practice closely related to American conceptual art, anti-form and process art, they exploited contemporary forms of expression such as happenings and installation art to the fullest extent.
The approach taken by Arte Povera artists was at once conceptual and sensual, poetic and earthy. Their themes and comments included past and present, nature and culture, and "high" and "low" art. A number of these works had a particular appeal to the senses: smell, touch, light and temperature. The artists worked with various different materials, combining industrially manufactured objects such as neon lights, glass and clothes with natural organic materials such as vegetables, living animals, earth, fire and water. Arte Povera is neither poor nor impoverished art, but art created in complete freedom and openness regarding materials and processes.
Rich Legacy
Arte Povera's conceptual views, approach to materials and working processes have influenced contemporary artists for the past 40 years. This is reflected in the history of the museum's collection, which includes both acquisitions of significant Arte Povera works, as well as related practices within land art, post-minimalism and conceptual art. The rich legacy of Arte Povera's influence resonates clearly in a number of more recent Norwegian and international works of art. A walk through the exhibition will allow the audience to experience the museum's Arte Povera works, and compare and discover parallel practices such as Camilla Løw's and Kristina Bræin's play with minimalism, Ida Ekblad's sculptures assembled from found garbage, the "formlessness" of Camilla Wærenskjold and Jeannette Christensen, and a critical and conceptual approach in the works of Matias Faldbakken, Gerard Byrne and Mario García Torres.
Permanent installations
The museum's permanent installations are also part of the exhibition. Experience Per Inge Bjørlo's installation Inner Room V by the ground floor staircase (purchased in 1990), Ilya Kabakov's installation Garbage Man (The Man Who Never Threw Anything Away, acquired in 1994), and Louise Bourgeois' Cell VIII.
Exhibition Curators: Sabrina van der Ley, Randi Godø, Andrea Kroksnes 
Curator education: Anita Rebolledo
Project Manager: Lita Ellingsen
Contributing artists
Giovanni Anselmo, John Baldessari, Miroslaw Balka, Per Barclay, Per Inge Bjørlo, John Bock, Louise Bourgeois, Hanne Borchgrevink, Bård Breivik, Kristina Bræin, Gerard Byrne, Pier Paolo Calzolari, Jeannette Christensen, Hanne Darboven, A K Dolven, Elmgreen & Dragset, Ida Ekblad, Ólafur Eliasson, Matias Faldbakken, Ian Hamilton Finlay, Hilmar Fredriksen, Jon Gundersen, Gjertrud Hals, Svanhild Heggedal, Siri Hermansen, Georg Herold, Marianne Heske, Ane Mette Hol, Ragna St. Ingadottir, Marte Johnslien, Donald Judd, Iver Jåks, Ilya Kabakov, Berit Soot Kløvig, Jannis Kounellis, Sol LeWitt, Løvaas & Wagle, Camilla Løw, Mario Merz, Camille Norment, Kirsten Ortwed, Sidsel Paaske, Giulio Paolini, Guiseppe Penone, Michelangelo Pistoletto, Kirstine Roepstorff, Dieter Roth, Ulrich Rückriem, Lara Schnitger, Richard Serra, Robert Smithson, Susana Solano, Bente Stokke, Gerd Tinglum, Mario García Torres, Mette Tronvoll, Tone Vigeland, Franz West, Camilla Wærenskjold, Snorre Ytterstad og Gilberto Zorio.