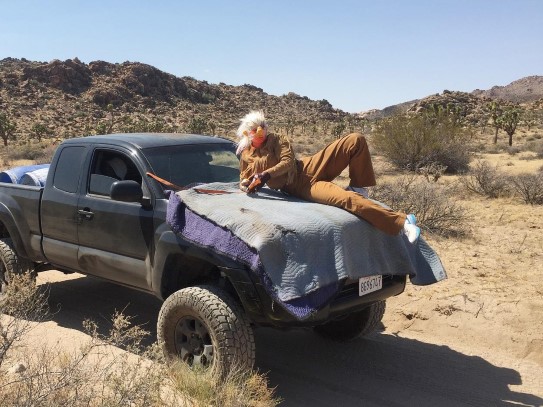 Are we inside a cave, or the belly of some indefinable animal? The light pulsates, on and off, and there's something fluttering up there under the ceiling. An age-old baby stands around barking, an igloo has grown fur, and the pyramids have turned square.
"Hot Pocket" is Tori Wrånes' first major presentation in Norway. It will include both new works and others that have not previously been shown here, and will be accompanied by a performance programme.
Few Norwegian artists are better known internationally than Tori Wrånes (b. 1978). A unique voice on the contemporary art scene, she uses costumes, props, voice and movement to create suggestive and hypnotic pockets of time – secret, highly charged spaces and mesmerising utopias. Wrånes' all-encompassing projects draw us into a magical, dreamlike world where anything is possible. She twists and reshapes traditions into spellbinding experiences – a concert in a ski lift, a ballet of construction cranes, an opera on bicycles.
Tori Wrånes' work has been shown at Centre for Contemporary Art, Lagos, Nigeria; SculptureCenter, New York; Dhaka Art Seminars, Bangladesh; Colombo Art Biennale, Sri Lanka; De Appel Arts Centre, Amsterdam; Grand Palais, Paris; Carl Freedman Gallery, London, and elsewhere. She has completed commissions for, among others, the Sydney Biennial, Performa in New York, the Bergen International Festival, and Lilith Performance Studio, Malmö.